Postmen have threatened to stop distribution of poll cards in protest over a cut in their special duty allowances. The protest came after the postal department in a cost-cutting exercise reduced the allowance paid to postmen put on duty to deliver poll cards.
Pro-JVP Lanka Postal Services Union spokesman Jayantha Wijesinghe said around 60% of the postmen throughout the country have expressed their opposition to the allowance cut and they might resort to trade union action if the issue was not resolved quickly.
Postmen who delivered poll cards for the January 26 Presidential Election were paid Rs.56 or Rs.58 an hour for 100 additional hours. However, the current system pays a postman only if he covers six houses in one hour. Trade unionists claim the system was unfair by postmen serving in remote areas.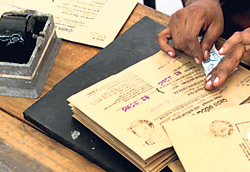 Poll cards being readied for delivery at Sri Lanka Post
"There are some postmen who have to walk for miles to deliver just one polling card and their payment will not be reasonable," he said. Mr. Wijesinghe charged some postmen who had refused to distribute polling cards in protest against the new scheme had been threatened by their superiors.
Postmaster General M.K.B. Dissanayake said the change in the payment scheme was due to cost cutting measures introduced by the Department. He said that under the new scheme, postmen were paid according to the work they done, while the earlier system gave every postman a fixed amount.
"We cannot pay a postman who has only a few cards to distribute the payment of 100 hours. We cannot make the same payment to a postman who delivers a few cards and a postman who delivers hundreds of polls cards," he said.The department incurs an additional Rs.17 million as expenditure in view of election-related work.
Trade unionists said the poll cards distribution should be completed by March 31 but any kind of trade union action could hamper the process. They said their leaders would meet tomorrow to discuss a course of action.
Around 8,000 postmen in the 22 electoral districts have been tasked to deliver poll cards. A Sri Lanka Post official said people who had not received their poll card by March 31 could collect them at the post offices by producing their National Identity Cards.
Meanwhile, Deputy Postmaster General R.D.P Gamini said they faced some problems in locating the present addresses of some people who had left Vavuniya camps for the displaced people.
"We are having trouble locating some 3,000 people who have left the camps. We request them to produce their National Identity Cards at their post offices to get their polling cards," he said.
Mr. Gamini said that apart from this problem, the delivery process had been going on smoothly from 6 a.m. to 6 p.m. with the police also offering security cover to post offices.