The writ application and habeas corpus application filed in the Court of Appeal by Anoma Fonseka, the wife of General (retd.) Sarath Fonseka against her husband's illegal arrest and detention by the Sri Lanka Army was listed for resumption on March 30.
The petitioner cited Army Commander Lt. Gen. Jagath Jaysuriya, Maj. Gen. H.L. Weeratunga, Maj. Gen. A.L.R. Wijetunga, Maj. Gen. D.R.A.B. Jayathilaka, Rear Admiral W.J.S. Fernando, the Deputy Solicitor General and the Attorney General as respondents.
In his submission Romesh de Silva, P.C., the attorney for the petitioner said that the General had retired from the Army before he was appointed as Chief of Defence Staff.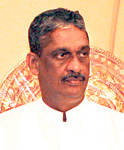 Gen. Fonseka
Therefore he was only a member of the Army. He said that his client's arrest by junior officers of the Army was arbitrary as he could have been arrested by any senior officer. He also said that Gen. Fonseka ceased to be in the Army and that he was a civilian and if there were any charges brought against him he should be tried according to civil law.
Mr. de Silva said that the Court Martial in progress by the Army was ultra vires and without any legal basis. He said that when there were objections brought against the panel sitting at the Court Martial, in that it was constituted by members who were biased against the General due to several reasons put forward by the petitioner, they were overruled without submitting any reasons.
The Attorney General Mohan Pieris P.C. informed Court that there was a Fundamental Rights petition filed in the Supreme Court and leave to proceed was granted but interim relief was not granted at that time and therefore the Appeal Court should not entertain this application.
Mr. de Silva stated that these were two different cases and should be treated in different views of justice. He said that the harassment and intimidation started after Gen. Fonseka became the main opponent of President Mahinda Rajapaksa and after he challenged the results of the last Presidential election.
He is seeking a writ prohibiting the respondents from continuing with the purported Court Martial and preventing the respondents from functioning as the judges in the Court Martial and from keeping the petitioner in military custody pending the final determination of this application.
The Bench comprised of Court of Appeal President Sathiya Hettige, Justices Ranjith Silva and Anil Gunaratne.
Mohan Pieris P.C., with Deputy Solicitor General Sanjay Rajaratnam, Senior State Counsel Nawaz and Nerin Pulle appeared for the Attorney General. S.L. Gunasekera and Sanjeeva Jaywardena with Manoj Bandara instructed by Sudath Perera Associates appeared for the 2nd 3rd and 4th respondents.
Romesh de Silva with Riyal Ameen and Sugath Caldera appeared for the petitioner.