It is the largest Sri Lankan butterfly with a wingspan spreading 165-180 mm. Its large forewings are glossy black and hindwings bright yellow with a black margin making it 'hard to miss' when in flight.
Scientifically classified as Troides darsius, this black and yellow butterfly - the Sri Lanka Birdwing found only in Sri Lanka has just been named Sri Lanka's national butterfly.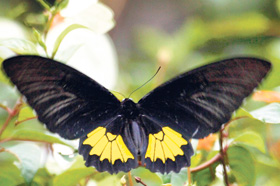 Pic by Gehan de Silva Wijeyeratne
The declaration of a national butterfly is aimed at raising public concern on butterfly conservation. Sri Lanka Birdwing was recommended as the National Butterfly by the Butterfly Expert Group established under the Biodiversity Secretariat of the Environment Ministry.
The recommendation for Sri Lanka Birdwing has been made considering its unique characteristics-that it is endemic and also the largest butterfly found here. Other facts - that the butterfly does not show pest behaviour at any stage of its lifecycle; is not a vectoring agent of disease; and is not associated with any negative cultural or spiritual beliefs, were also considered in the selection.
"Another reason for choosing Birdwing as Sri Lanka's National Butterfly is its wide distribution," says butterfly expert Dr. Michael van der Poorten. The Sri Lanka Birdwing is common in rainforest habitats in the wet zone, but is also seen in the intermediate zone and dry zone. However, more than the dense forests, the Birdwing prefers forest edges – even home gardens.
"The Birdwing can even be found in Colombo suburbs. By planting its host plant, it can be attracted to home gardens," Dr. Van der Poorten adds. The Birdwing lays its eggs on the Sap sanda plant and prefers to feed on ixora and pinna flowers.
Fact box
The Butterfly Expert Group is also preparing a Butterfly Conservation Action Plan. Sri Lanka is home to 243 varieties of butterflies of which 20 are endemic. Of these, 66 species have been listed in a 'threatened' category, due to habitat destruction and environmental pollution.