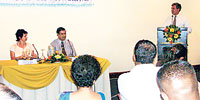 Picture shows Nick Nicolaou, CEO -Sri Lanka and Maldives, HSBC and Vice Chairman, Council for Business with Britain, addressing the meeting. Anil Wijesinghe and Janet Ford are seated at the head table.
Janet Ford, Head of UK Trade and Investment (UKTI) recently addressed a luncheon meeting of the Council for Business with Britain (CBB) in Colombo where she highlighted the free services offered by the state agency, fielded questions from local business uminaries, and lauded the work of the CBB in improving business relations between Sri Lanka and the UK.
The CBB, chaired by Anil Wijesinghe, Deputy Chairman of Delmege Constructions and Charter House, is actively involved on building bridges between the business communities in these two countries.
Ms Ford noted that although the UKTI charged UK companies for access to its services, which are aimed at helping them thrive in foreign markets while maximizing investment opportunities for foreign companies in the UK, the organization also offers free ad hoc help to Sri Lankan firms, such as advertising their services on its website and facilitating business introductions.