An education programme focusing on the Back Process Outsourcing (BPO) in Sri Lanka's North has resulted in the participation of 4,000 students in the mostly O/L (60% of participants) and pre-final A/L categories with girls slightly outnumbering boys, the country's Information and Communication Technology Agency (ICTA) said.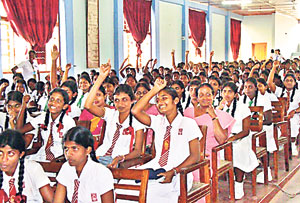 At the event
Further indicating that the programme held at the end of last month at the Jaffna Vembady Girls' High School elicited "huge interest", the statement suggests that IT-BPO was considered by students as being a career choice on "par with or higher than professions like those of doctor, engineer or accountant".
These students, said to be "from schools in the Jaffna district and from distant places like Vavuniya and Mannar with IDPs among them", were made privy to a "one-hour seminar followed by visits to career guidance booths where nearly one-and-one career guidance was given by counsellors from the Ministry of Education and the industry. There were five one-hour seminars each of the three days.
The counselors who were young yet well trained comprised 13 from the Northern Province Ministry of Education offices in Jaffna such as Kilinochchi, Thenmaraachchi Mannar, Mullaitivu and Vavuniya and 11 from the IT industry in Jaffna," the ICTA added.
In total, as per ICTA, "about 140 schools attended the seminar with an average of 40 students from each school. While 87 schools from the Jaffna district participated in the programme, there was particularly large number of participants from Vavuniya schools. The ICT knowledge of participants ranged from students who had never seen a computer before to those who were adept in computer applications."