While most people today have heard of the Internet, and the brands it has spawned, even though not many have access; there are just a few who are aware of the people behind the companies that are increasingly featured in today's news.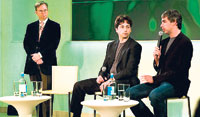 Google CEO Eric Schmidt LEFT with Sergey Brin and Larry Page RIGHT in 2008.
Companies like Google, Yahoo, Facebook, YouTube, Twitter, Wikipedia, MySpace as well as others that, though now relatively unknown, were at their height responsible for ideas that kick started entire online revolutions.
It is interesting to note that, unlike your typical Wall Street executive, many of Silicon Valley's robber barons (of e-commerce) did not finish university but rather left Stanford, Harvard, etc. to take advantage of an opportunity for which they felt the time was right. It is not uncommon also that their stories match the likes of Bill Gates and Steve Jobs in that many started out of their homes and built their empires up solely through drive and tenacity alone.
The first of our highlighted web pioneers started the English version of an online free encyclopaedia Wikipedia; which, fittingly, was ranked 2009's most influential website, as decided by the number of times mentioned across the web, according to Internet watcher "://URLFAN".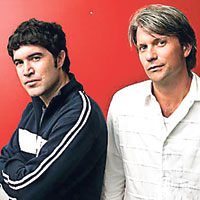 MySpace Tom Anderson LEFT and Chris DeWolfe RIGHT AP photo.
While the website has faced controversy in the past for the quality of content as well as recent unconfirmed reports that 49,000 volunteer editors had left in what was termed an 'exodus', Wikipedia however has always been widely accepted as having had an important impact on the lives of a vast number of net-izens. Formed in 2001, Wikipedia is the brainchild of USA's Jimmy Wales and is a non-for-profit service which boasts 300 million page visits a day (according to a Los Angeles Times article in 2008); it is also known to be funded exclusively through charitable donations, for which it is often criticised as being directionless and unsustainable.
Meanwhile, Mr. Wales's story is not much different from his creation; growing up in Huntsville, Alabama, with meagre means. Creating Wikipedia because of his youthful love of encyclopedias and frustration due to them being always out of date and hard to use, Mr. Wales has interestingly endeavoured to maintain it as a free resource, free for everyone to use and even edit, so that the information can be as up to date as possible while being vetted by a number of volunteer editors.
Currently, Mr. Wales spends all his time on 'near-constant' speaking roles all over the world as well as fundraising for Wikipedia, while Google has reportedly made a recent contribution of US$ 2 million to the website.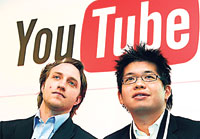 YouTube Chad Hurley LEFT and Steve Chen RIGHT REUTERS XINHUA photo.
Another website often in the news today is YouTube. The latest news update in the unending YouTube censorship saga, for example, relates to three Italy-based administrators at YouTube-parent Google being found guilty of violating privacy laws by a court in Italy due to content uploaded to YouTube. Started out of their garage as a way to upload and share 'funny videos' in 2005 by USA's Chad Hurley, Steve Chen and Jawed Karim, all former employees of online auction site eBay's payment gateway PayPal, YouTube's startup story is the Software Developer's dream, which ultimately led to the site's mass appeal and adoption to the degree that hundreds of millions of video clips are now watched online every day.
One of the most prolific online companies in existence today is Google; which started as a search engine in 1998. Since then the site's popularity due to its speed, stripped down design and unique, pioneering search methodology has led to its diversification over many different areas including media sales, news, e-mail though Gmail, books (another controversial area at the moment), video sharing through YouTube, Google Maps and even Google Earth.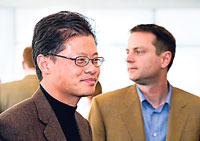 Yahoo Jerry Yang LEFT and David Filo RIGHT
This online media empire was started by USA's Larry Page and Sergey Brin and reportedly receives billions of search requests a day. However, and hotly disputed; Google, which has the motto 'Don't Be Evil', claims to still maintain its billionaire founder's values of scientific inquiry and innovation, prompted by their meeting as PhD candidates at USA's Stanford University; even though the founders have stepped down from active leadership to focus on other interest such as joint investments in renewable energy, electric car company Tesla Motors and even movie producing as well as an individual foray by Mr. Brin into Space Adventures, a USA-based Space Tourism company slated to launch flights in 2011.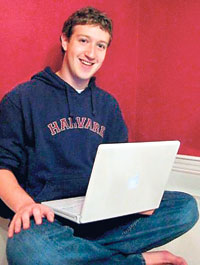 Facebook Mark Zuckerberg
A close contender to Google's dominance is Yahoo, and in fact it was an early leader in the fields of online search and media sales going back before the dot.com bubble; Yahoo.com, which claimed 1.5 billion visitors annually in 2008, was founded in the early 1990's by David Filo and Jerry Yang, both of whom also met at Stanford University; and is reportedly one of the few 'pure' Internet companies remaining. Now with Mr. Yang and Mr. Filo both retired from active leadership, the new leaders of Yahoo have opened doors to major cooperation with Microsoft, a move that the previous leadership seemed dead set against.
The precursor to Facebook, Flickr and even new tech upstart Twitter, was undoubtedly MySpace; a site that introduced sharing and social networking to the world. Created in 2003 by business school graduate Chris DeWolfe and an ex-band member and film studies graduate Tom Anderson, the site was planned to incorporate all the benefits of single benefit predecessors; MySpace is currently owned by Rupert Murdoch's News Corporation.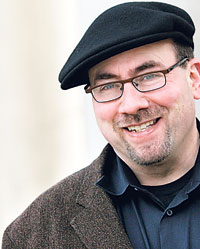 Craigslist Craig Newmark
While everyone who travels anywhere over the web sees Facebook branding, not many would know that the site has over 400 million active users today. Founded by Mark Zuckerberg, and fellow college roommates and computer science students Eduardo Saverin, Dustin Moskovitz and Chris Hughes, while at Harvard University in 2005; the website earns approximately US$ 300 million in revenues (as per 2008 estimates), and has revolutionized social networking. However, the site is often a key target for privacy issues and cyber attacks. Interestingly, while Mr. Zuckerberg et al still helm Facebook, Microsoft recently bought a small stake in the company.
A growing contender to Facebook's crown is micro-blogger Twitter which was launched in 2006; gaining ground as the 'SMS of the Internet' the service reportedly has 55 million monthly visits to its site, and is expected to earn an estimated US$ 400,00 in revenue in the third quarter of 2009.
Based on an idea by USA software architect Jack Dorsey, who currently serves as Twitter's Chairman, and created with investment from Evan Williams, of Blogger.com fame; the website is the newest and most trendy kid in the blogosphere today; especially due to its most recent, dissemination of information from quake struck Chile, and its adoption by many governments as the next 'it' technology to be used to disseminate information.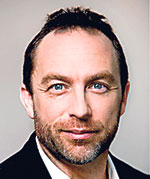 Wikipedia Jimmy Wales
Another website that has revolutionised the online landscape even though continuing to be relatively unknown by international audiences is craigslist.org.
Craigslist.org, a non-for-profit, free community notice board that offers online classified advertising and forums, which gets in excess of 4 billion page views per month; has become the preferred choice for classified advertising even more so than newspapers. Founded by USA's Craig Newmark in 1995, widely described by detractors as an "uber geek" and a "hippy"; the website has revolutionised urban communications while stretching a once small San Francisco-based online forum/community to all parts of the world, providing all services. Mr. Newmark also continues to refuse buy-out offers in the multimillion range.
Twitter. Do not spam
Social networks and polls
By Rohan Samarajiva
Twitter has come. It was THE news in Iran when Ahmedinijad was winning his famous victory; breaking news in India after Shashi Tharoor started tweeting; and now it's here as part of Milinda Moragoda's unconventional campaign. Twitter, unlike spam SMS, is respectful of the personal space of the recipient. It is a how we should use new technologies. It completes the lesson in telecom privacy that the New Year began with.
On the first of January, I and millions of Sri Lankans received an unsolicited text message from a presidential candidate. I had not requested this message which contained both a New Year's greeting and election propaganda. As I said in a response that I wrote en route to Sri Lanka from Dhaka where I received the spam text, "I do not recall giving my number ... I have definitely not given permission to my service provider to give my number ... But I have to spend time and effort to open the damn thing, read it and delete it. And since I was out of the country when the SMS reached me, I have to pay roaming charges for receiving spam SMS."
Some vociferously justified the act of the candidate. It was the former Director General of Telecommunications who had unlawfully communicated the order to transmit the message to the mobile operators and the operators who had done the deed. "SMS wisdom," an anonymously named commenter, even managed to call me an "old professor" and ask me "to grow up" in the very same comment.
I am no Luddite. I like to see new technologies being used in new ways. So I sketched out how political campaigns could use ICTs to communicate with supporters or to solicit support. Political parties run ads on TV, radio and newspapers; send mass emails. Why not mass SMS or calls on mobile phones? The difference is that people do not pay for the TV and radio content and only for parts of the cost of the newspapers they read. Part of the bargain with the people who provide the free content is that they can show advertising; the reader is free to look/listen.
A key difference with mobile phones is that it is the most personal of all communication technologies. It rings and I am compelled to answer. I have no alternative but to spend time looking at and then deleting spam, or refusing to accept campaign calls. Unauthorized use of my number eats up what I value the most: my time and attention. There was, I said, a middle ground between everybody getting spammed by political candidates and absolute prohibition. Political campaigns could advertise numbers that interested members of the public can call/SMS to register their willingness to receive birthday calls/texts, New Year texts, etc and yes, even political messages.
But I neglected to write about Twitter. Here, the one who wishes to communicate (the candidate) has to spend some resources to advertise how to receive the Tweets; those who wish to receive the messages have to proactively follow the Tweets; they retain the right and the ability to discontinue the communication. Communication happens, in nice tight 140 character chunks. Privacy is respected. Politicians are compelled to get to the point.
As Shashi Tharoor is showing in India, you can shake up the status quo using disruptive technologies. One hopes Milinda Moragoda will do the same in Sri Lanka. It sure is needed.