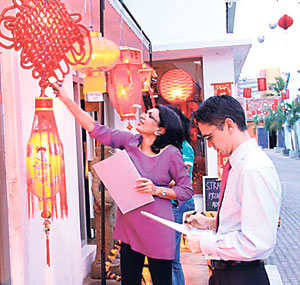 The Sri Lankan office of Cathay Pacific Airways recently awarded the winners of its "CX Chinese New Year Challenge", from a field comprising teams from 35 affiliated travel agents.
According to a company statement, "Gabo Travels (Pvt) Ltd emerged triumphant winners, while Mackinnons American Express Travels and Gabo Travels Overseas (Pvt) Ltd. became 1st and 2nd Runners up respectively. Classic Travels [bagged] the award for the best lantern".
The competition, which comprised only two rounds, featured a quiz for all 35 entering the preliminary stage followed by creative contest held in keeping with recent Chinese New Year celebrations, including its prerequisite Chinese lanterns decorations.
The 12 highest scorers, or finalists, of the quiz were selected for the creative concert where Gabo Travels emerged the ultimate winner. Colombo 2's Park Street Mews restaurant played host to the competition and exhibition of finalists' work. (JH)