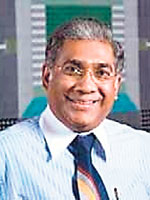 Russell de Mel
Sri Lanka's National Development Bank (NDB Bank) said on Friday that its CEO Eran Wickramaratne was quitting, based on a decision to enter politics, and his deputy, Russel de Mel has been named his successor.
The bank said the changes are effective from March 26. Mr Wickramaratne has resigned from his post from that date in order to serve the country in a different capacity, it said. Last week the bank CEO was selected to the opposition UNF's National List for next's month's parliamentary poll, Mr de Mel is currently Additional CEO of NDB Bank.
Mr Wickramaratne joined NDB in April 1999 and has been closely associated with the transformation of the Bank from its project finance roots to building a commercial and retail business. He became the CEO of the bank in April 2008.