Late Friday night, I received a call informing me that my very dear teacher and very learned friend Ven. Prof. Dhammavihari had passed from this present life. Though born in New York City to Colombian (South American) parents, I had the good fortune to be tutored in Buddhism by this dedicated monk and scholar over the course of many years.
Ven. Prof. Dhammavihari lived a long full life as a professor of Buddhist studies in Canada and then, after taking robes as a devoted monk and prolific writer on questions of Buddhism.
I first met Ven. Prof. Dhammavihari in perhaps 1990 or 1991 during one of his several visits to the Washington Buddhist Vihara in Washington, DC. The circumstances of our meeting are of note, in part because the meeting was completely accidental but was to have a deep and lasting impact on the entire course of my life. Those were my college years, and in college, many young people are eager to explore new ideas and philosophies and to try new and different experiences. I was not particularly interested in Buddhism and came from a Catholic family, but a very close friend of mine had learned a bit about secular meditation. She became determined to attend classes and, not having a car at the time, asked if I would give her a ride to an ethical society in northwest Washington where non-denominational meditation classes were given.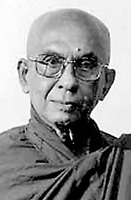 Ven. Prof. Dhammavihari
We set off, but soon became lost in this part of Washington with which we were unfamiliar. Then my friend suddenly spied a sign in front of a house on Upper 16th Street proclaiming "Washington Buddhist Vihara" - a place now as familiar to me as my own home. "I am pretty sure if they are Buddhists, they must be able to teach us how to meditate - let's just go in here," my friend said.
So we parked and rang the bell. As we watched from the door, a very saintly-looking, wizened man in red robes descended the staircase from the upper rooms - a mischievous glint in his bright eyes. "Ah yes, come in, my daughters," he welcomed us. "I have been waiting for you."
Here, of course, my friend and I exchanged glances - as we had no prior plan to visit nor had even heard of the Vihara before. However, drawn in by his warmth and friendly welcome, we ascended to the upper room where Prof. Dhammavihari sat cross-legged on a rattan settee surrounded by palm fans and we took seats on floor cushions. He began to expound on the dhamma - to explain to us the principles of Buddhism. Such a scene is common across Asia, but was quite new and unfamiliar to us Westerners. However, from almost his first words, we were hooked, and so began my long (almost twenty years) study and practice of Buddhism.
Ven. Professor Dhammavihari had a simple yet profound message as a deep thinker and original scholar of Buddhism. His main message was about the practice of 'sila', or everyday morality (as he explained to us). In Prof. Dhammavihari's view, every Buddhist could practise 'sila' not just on the full moon days, but should meditate on at least one precept on each day of life, devoting at least one action to that principle. For example, he was a proponent of Buddhists having the main meal before noon, and then in the evening having just a clear soup while meditating on the beneficial effects of such a light tread on the world.
He believed that such practices were available not only to monks, but to lay people as well, as a way to clarify the mind, enhance concentration, and promote the contemplation of 'metta', loving-kindness toward all beings.
Inside this simple message lay a more complex one. Prof. Dhammavihari and I bonded especially due to my field of study: neuropsychology. He was extremely interested in the functioning of the brain and how it sub-supports the experience of the mind, and we spent many, many hours in conversation discussing the similarities between the findings of modern science and the ancient Pali and Vedic texts on the matter. The psychology of perception, or reaction to stimuli, and of learning to control negative reactions in favour of positive ones is not new - it has just found a different language, the language of modern scientific techniques.
Prof. Dhammavihari was an erudite scholar and reader of many subjects, and quizzed me on cognitive science almost as often as I quizzed him on Buddhist principles. Modern science supports his idea that giving up a day to focus intensely on the contemplation of a specific moral principle would enhance innate learning of that principle - even at the level of a change in the way the brain ultimately functions.
Finally, Prof. Dhammavihari was a strong proponent of a view of the world which gains more and more support from science each day - the concept of the interconnected web of life. All living beings are connected, he believed, and the actions of each one of us has a profound if unknown effect on every other living being under the sun and beyond.
Environmental science is bringing us an ever greater understanding of how simple, thoughtless actions can cause the environment great harm, and how taking care to engage in even very small acts of conservation and preservation can make huge differences in the quality of life on the entire planet. Prof. Dhammavihari's keen insights about the effect of individual morality on the entire web of life are not just "spiritual" but also quite practical - and in fact, he saw no difference between the spiritual and the practical.
In those early days, we met three or four times weekly for our hours-long discussions, and once Prof. Dhammavihari returned to Sri Lanka, kept up our correspondence. I had the good fortune of meeting him in person several times again, both when his travels brought him to the Washington Buddhist Vihara as well as in Sri Lanka, where I visited him at the International Buddhist Research and Information Centre in Colombo. How well I remember our last visit.
Though becoming somewhat infirm, he was so happy to see us and graciously invited us into his small sitting room. We chatted, caught up on mutual acquaintances and of course our conversation soon turned to Buddhism. He then produced a book I had given him many years earlier - which I had completely forgotten - and affectionately inscribed to him as my great teacher of Buddhism.
Ven. Professor Dhammavihari became a monk at age 69 after living for many years in the West, which gave him a true ability to relate to lay people, to understand Westerners, and to explain the principles of Buddhism in very comprehensible and realistic terms. In this way, and in so many aspects of his life, he truly not only talked the talk but walked the walk of Buddhism - he practised the principles he preached in his own life, and by doing so, greatly enhanced the world around him.
May he attain the ultimate peace of Nirvana.
(The writer is Associate Dean -College of Arts & Sciences, Trinity University, Washington, DC)
He taught the need for restraint
Extracts from the oration delivered by Olcott Gunasekera at the cremation of the Late Venerable Professor Dhammavihari Maha Thera on February 15
Late Professor Dhammavihari Maha Thera led the life of a Buddhist monk for twenty years and before his ordination, as Professor Jotiya Dhirasekera was a renowned teacher in Pali and Buddhist Civilization at the University of Peradeniya. He later served as the Editor-in-Chief of the Encyclopaedia of Buddhism and the head of the Post-Graduate Institute of Pali and Buddhist Studies, University of Kelaniya. His demise is a great loss to everyone and especially to Venerable Mettavihari who was his close associate and companion in his bhikkhu life.
The late Maha Thera was a unique person with a unique personality. I do not know of anyone living today who can surpass his vast knowledge and erudition both of the Dhamma and the Pali language. When he passed away he was 89 years of age and his death occurred a few days after his visit to Nalanda in India on the invitation of the Indian Government to participate in a scholarly event there. This shows his character and determination.
I met this unique personality over 50 years ago when I was an undergraduate at the University of Ceylon, Peradeniya. He was the sub-warden of the Sir D.B. Jayatilaka Hall, as an assistant to Professor G.P. Malalasekera who was the warden. The teacher-pupil relationship which grew from that time was bonded in a long-lasting friendship that continued until his demise. This is true not only of me but also of all who had sat at his feet even for a day to tap from his vast storehouse of knowledge.
In recent times the late Maha Thera had shown his concern on two matters which I think is appropriate for me to mention. First is the need for "a SLS standard", to use his own words, for Buddha Dhamma. He was very concerned with some of the books and articles that get published, both in English and Sinhala, which distort the Dhamma and the Vinaya. Some of the distortions are deliberate to confuse the Dhamma followers and students of the Dhamma and others are due to the lack of knowledge of the Dhamma and the Vinaya. If we are to honour the late Maha Thera this is an area of work for the future.
In many of his Dhamma talks he mentioned at the need for restraint. The initial training on restraint is when a layperson observes the eight precepts. The path of Buddhism is not open if we do not learn to restrain our five sense doors and the three additions to the five precepts that Buddhists are expected to adhere to in everyday life, is to provide that training. His admonition always has been the observance of the eight precepts for 24 hours and it pained him very much that this was not happening.
May the late Professor Dhammavihari Maha Thera attain the Bliss of Nibbana according to his own aspirations.