"The largest International Design Exhibition to come to Sri Lanka" - this is how the current exhibition organized by the Goethe-Institut in collaboration with the University of Visual and Performing Arts, Department of Architecture of the Moratuwa University and the Academy of Design is billed.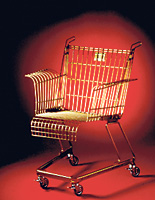 The Anti-Design in "Consumer's Rest Lounge Chair" by the Stilleto Studio (1989/90)
The exhibition now on at the newly opened J.D.A. Perera Gallery, Horton Place - possibly the most spacious gallery in Colombo focuses on "Consciously Simple" furniture, luminaries and home accessories created by young German designers of the 1980s and 1990s.
The lack of colour and surface decoration may initially put off the visitor seeing this kind of "semi finished" creations. Some may miss the compulsory cushions on the chairs, which give the feeling of homely comfort. Sitting on a 'solid' chair turned out of concrete and steel rods designed by Heine H. Landes may seem precarious. Why not try out the 'sensuous relationship' between the material and the person sitting on the chair?
The exhibition offers some icons of New German Design (Neue Deutsche Design) collected from many museums and private collections such as the "Consumer's Rest Lounge Chair" by the Stilleto Studio (1989/90), Wolfgang Laubersheimer's "Cable-Stayed Shelf" (1984), and the "Tabula Rasa"(1987), a creation by Uwe Fischer and Klaus-Archim Heine.
Viewing this selection, the boundaries created by directors of museums classing some objects as 'Art' and others as 'Artifact' seem meaningless.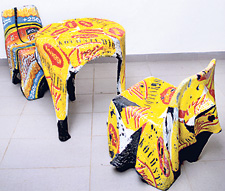 Chair 'Maggi' (1993) by Beata Bär, Gerhard Bär and Harmut Knell Pic by Shade Tree production
Heinz H. Lande's "Antler Lamp" (1989) (Geweihleuchter) derives the design for his candle-stand from the antler's head, which was an accessory in the upper middle class German living room in the late 19th century.
Dialogues with earlier forms like the lamp "Red/Green" (1993) deriving its conic shapes from the '60s, or using the back rest of the classic "Frankfurt Chair" for children's furniture are most remarkable.
The highlight of this exhibition is the "Consumer's Rest Lounge Chair", a satirical comment on the supermarket culture that entices the consumer to come to the cashier with goods crammed in the trolley.
The chair 'Maggi' (1993) has used recycled packaging. One may link these satirizing elements and elements of parody to earlier design hidden in the exhibits or just see them as play with material and form and colour.
The objects exhibited appeal to many a whim and fantasy - an exhibition well worth a visit. The exhibition which continues till March 2 is open from 10 a.m. to 7 p.m. every day (except poya days). Tickets: Rs 50 (children and students) and Rs. 100 (adults).