Is it possible to obtain a birth, marriage or death certificate in five minutes? It seems too good to be true, but this is the reality at the Colombo Divisional Secretariat in Dam Street. This service, inaugurated on December 21, 2009, is available to all those whose births, marriages or deaths had taken place within the Colombo District.
Colombo Divisional Secretary K. G. Dharmathilaka says they have a database of 5.8 million scanned and stored in their system. They can also access the data bases of other Divisional Secretariats to get the necessary details to issue these certificates. "Our aim is to provide these services without filling any forms," Mr. Dharmathilaka said. When the basic details are given, the certificate is issued immediately by referring to the database. This service is available from 9 a.m. to 3 p.m. on weekdays. About 5000 certificates are issued each month.
On average, over 500 people come to the Divisional Secretariat each day to obtain these services, says Mr. Dharmathilaka. The newly opened front office is equipped with a reception desk and five counters. When you walk in, the receptionist directs you to the relevant counter according to your requirement. Each counter is manned by about three officers, one of whom is conversant in English, Sinhala and Tamil.
Mary Elizabeth from Kotahena had come to obtain a birth certificate to apply for her EPF. She gave in her details to an officer at the counter, and within a few minutes obtained her certificate and walked out fully satisfied. "When I came here today, I never thought I would be able to get this certificate so fast, as previously we have had to wait two or three weeks for a certificate" she said. "It is a great service."
Retired Superintendent of Police, A.R.M.S. Ratnayake, had come to hand in his Life Certificate, required annually to obtain his pension. As someone who has been coming in regularly for his pension matters, he said he finds the new system very convenient and time-saving. Francis Gunasekera, another at the office that day is equally appreciative.
"I came here to get this form signed with regard to my pension," he says. "As I came in I was directed to an officer, who helped me to get my work done in just a few minutes." Periyasamy Ganga, who had lost her NIC, found that her name was not included in the householders' list for the area. She obtained a form and was filling it up for inclusion in the list.
Mr. Dharmathilaka explained that the processing of NICs at the Dam Street office is available to residents of Colombo North and Colombo Central, whose names have been included in the householders' list. He says there are 65,000 families registered and 3000 to be entered in the database. A team of representatives from the DS is now engaged in visiting the households to verify the accuracy of the information given. This process should be completed by the end of the month.
According to Mr Dharmathilaka, updating the householder's list is done once every three months. It is very important for the public to cooperate in this task by supplying the information required correctly, he says, for having their details on the database would enable them get the services provided by the DS office conveniently.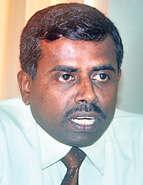 Colombo Divisional Secretary K. G. Dharmathilaka
Mr. Dharmathilaka credits Colombo District Secretary G. A. J. Sylvester, for initiating the process and the database with the assistance of the Information and Communication Technology Agency of Sri Lanka (ICTA). He was also instrumental in getting the front office upgraded. The programmes for the database were prepared by the IT Unit of the Colombo University, headed by Harsha Wijewardena. When any assistance is required regarding the programmes, the Unit attends to it.
"We have compiled data on various categories; so when children reach the age of 16, we inform them by sending a letter that they need to get their NICs and what documents they need etc. Those who reach the age of 60 are informed about the issuing of Senior Citizens' ID. A senior citizen who comes to our office with the required information is issued a special ID within a few minutes," he explained. "The objective of the programme is to provide these services through the computer without much paper work. We have about 15 databases within our department for various services," he stressed.
The D.S. office processes the NIC applications of residents of Colombo North and Colombo Central. The relevant Grama Niladharis have been asked to submit the applications received by them to the D.S. office within one week. Having verified the details, the applications are sent by vehicle on Tuesdays and Fridays to the ID card office at Jawatte Road for the cards to be issued. When these cards are ready, the D.S. office sends them by registered post to the applicant. The one-day service for IDs (including lost IDs) is available at Rs. 500.
In addition to these, a number of other test projects to provide online services such as e-Pensions project, e-Divisional Secretariat project, e-population project etc are being conducted at present. "We are planning on issuing Grama Niladhari Certificates online," he said adding that their aim is to get these projects off the ground within the next two to three months.
The Secretariat has a Planning Division, which handles development work for the area. It is through this division that funds released by the relevant ministries are used to provide items such as sewing machines, to low income persons who are in need This division also supplies information to the public who request it for research or other needs. A Field Officers' Division has 30 officers handling several subjects such as Child Rights Promotion, Women's Affairs, Sports, Land Use, Culture etc.
At Dam Street, it is indeed refreshing to see that special attention is paid to customer care. The various sections and its officers from the Divisional Secretary to the Management Assistants are all people-friendly and helpful. In September last year they were awarded an ISO Certificate of Commendation in the Inter-Divisional Secretariat Category at the Provincial Productivity Awards for 2008.
Services available at the D.S. office
Administrative Division
Householders' list
Income Certificates
Asset Declaration Certificates
Permits for tree felling and transport of timber
Pawning licences and liquor licences
Samurdhi payments and stamps
Certifying NIC applications for one-day service
Pensioners' railway warrants
President's Fund grants
Social Service Division
Self-employment and housing grants for disabled persons
Approval of sewing machines for the needy
Grants for twins
Issuing dry rations for displaced persons
Registering for Social Security Pension Fund
Approval of other relief funds
Approval of medical grants
Senior Citizens' ID cards
Supplying spectacles, wheel chairs, tricycles etc. to the needy
Additional District Registrar's Division
Birth, Marriage, Death certificates available in database
Birth, Marriage, Death certificates not available in database
Regularising unregistered births
Change of name
Other amendments