The children in the large, noisy class room are busy - brows furrowed in concentration, smudges of paint on their nose, they dip their paintbrushes into pools of purple, pink and turquoise and carefully blot the expanse of white cloth before them. Over the high-spirited chatter, they are hard at work, painting t-shirts and frocks to wear for their upcoming exhibition.
The entire art school is abuzz with activity in preparation of the exhibition; in one corner a boy deftly adds the finishing touches to a striking abstract painting while in another room, a student pasting buttons on coconut coir, explains to us that she is working on a lampshade.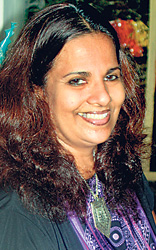 Freeing young minds: Shyamala
'The Beauty Within' is an art exhibition by the students of the Shyamala School of Art, and showcases a spectrum of work ranging from cloth hangings, acrylic on canvases, paintings in Indian ink, sculptures, 3D paintings and much more.
Our conversation with Shyamala Pinto - Jayawardena is punctuated with queries along the lines of "Aunty, what colour should I use?" or "Aunty, look, I've finished my dress!" After 25 years of teaching, the exuberant art teacher's passion and enthusiasm for her work remains very much alive, as she skilfully oversees each child, bestowing a word of praise here and administering advice there.
"If I have 20 children, I will have 20 different pieces at the end of it," smiles Shyamala. Elaborating that she loved to see children grow over a period of time, she explained that the exhibition also showcases the gradual progression and confidence of students who have been with her over the years, in line with the development of their aesthetic sense.
Instead of teaching art purely as a subject, Shyamala believes in stretching the boundaries of art and seeks to inspire and rekindle children's creativity while equipping them for life by moulding sensitive people: "I concentrate on taking the child out of the grip and binding of adult thinking and concepts. It is only once the child is free from this pressure, the need for constant perfection and the trappings that the adult world brings along with it that he or she can truly engage in creative expression."
Appreciation of aesthetics, whether it is a piece of music or a picture is a decidedly positive quality which should be cultivated in children and is sorely lacking in the fast-paced society of today. she feels. "Art is not merely paintings or sculptures, it is a way of life," she emphasizes.
Encouraging discussion amongst the students (Why did Van Gogh commit suicide? Why was Michelangelo the person he was?), using a number of books to inspire the children and combined with the home-like ambience which pervades the school, it is no surprise that the children love what they do.
Having obtained centre-ship from the British Council for Edexcel and Cambridge examinations, the art school maintains equilibrium between work and play by equipping children for examinations and assignments as well.
"We all have something beautiful in us and in every one of us, we have a little corner that is dynamic. You have to tap into it and cultivate it," smiles Shyamala.
'The Beauty Within' by the Shyamala School of Art will be held at the Lionel Wendt on February 26 and 27 from 9 a.m. - 9 p.m.