What does global warming mean to you? Does it conjure up images in your head of chaos and destruction everywhere with half the world's landmass going underwater in minutes? Is it really going to be that bad? Has it already begun? These are just a few of the questions people are asking.
Global warming is a matter of great importance and should be treated as such, says world renowned explorer, BBC presenter and campaigner for climate action Paul Rose who was in Sri Lanka this week. At a discussion on Communicating Science on a Warming Planet and a lecture titled 'Global Meltdown - What's really going on with our climate?' organised by the British Council with the support of the National Science Foundation and TVE Asia Pacific, Paul addressed many of these questions.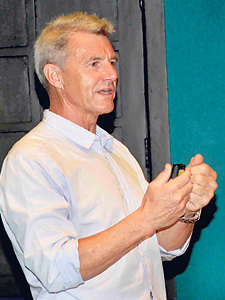 Paul Rose
An eminent explorer, adventurer, TV personality, public speaker, radio broadcaster, author, diver and conservationist, Paul also happens to be a magistrate in, you wouldn't believe it, Antarctica, of all places. He is a man who can proudly say he has been to the top of the world (literally) and also to its very bottom.
He was the Base Commander of Rothera Research Station, Antarctica for the British Antarctic Survey for 10 years and was awarded the Queen's Polar Medal and the US Polar Medal for his work with NASA and its Mars Lander project on Mt. Erebus, Antarctica.
"I've worked mostly in the polar regions, and I'm just back from a project in Antarctica, in its Dry Valley. It's a beautiful place; it's like being on the moon. When you're in a quiz and they ask you, 'what's the driest place on Earth?' you might say it's the Sahara Desert but it's not; it's actually the Dry Valleys of Antarctica.
Although there are glaciers there, it hasn't rained in thousands and thousands of years. The humidity content is as close to zero as possible. It's incredibly dry," says Paul.
For Paul, getting his hands dirty or impossibly numb in this case due to the extreme cold, and doing the occasional dive up in the Arctic's icy sea are all in a day's work. In Antarctica for the past 30 years, he has had the opportunity to work with some of the world's best scientists, especially in the field of climate science. "I got to work with my favourite- a man called Jeff Severinghaus, one of the top climate scientists on the planet," he says.
Jeff, Paul tells us, is looking for methane: ancient gas. Scientists can learn a lot about climate change by going through ancient records like that, he says. Another form of evidence for climate change is what is known as ice core. What's the big overlapping position where these things fit together? What's the breaking point of the ice? Is it brittle? Will it shatter?
Jeff, Paul and their team needed to get ice cores for this purpose; 700 of them to be exact. They flew by helicopter to a gigantic glacier and camped out on it for two whole months. And each day the team would make a skidoo journey, to the top of the glacier, and then on foot, travelling hundreds of kilometres to get to the right place.
Once there, the team would make the ice core. It's kind of like getting the core out of an apple, explains Paul. Once the piece of ice is brought up to ground level, with it the scientists can go back in time. According to Paul, an ice core approximately 11,000 years old could be just five metres underground.
"What we use is what is called a hand core, because some of these areas are quite difficult to get into.
We couldn't use the skidoos and we'd walk on the glacier carrying lightweight hand drills with us. In other parts we'd use either engines or generators and we'd run electric drills and that took the heat off it. But having done this for two months, you come back feeling fit, because you've done a lot of physical exercise. You get that weird, semi numbness, though. We were all having breakfast one morning and drinking tea, but not really holding that tea pot, because our hands felt quite fat and slow," recounts Paul.
Although not a scientist himself, Paul is an expert on global warming and climate change. Listening to him talk convinces you that global warming is a big problem. But Paul is optimistic.
"There's a lot of doom and gloom about global warming. I've turned things around a little bit and I'm very optimistic that within the next 30 years we will have made a whopping big difference - that is we'll have controlled, by and large, our human impact on climate. I think we'll slow down that rapid warming and overcome this burgeoning population boom that we've got," he says.
However, there was a time he had trouble grasping the harsh reality of climate change. "Sometimes it is a big leap from someone going around drilling a hole in the ice to coming on television and saying the climate is changing. I've been doing this for 30 years, and it takes a huge leap of faith, to see these lumps of ice and then put in a global context," he says.
Paul lives in the Lake District in England where there's a lot of snow and ice and it's been getting noticeably colder, and so, it would be easier for him to brush off this concept of global warming.
"I couldn't actually say I had a firm opinion on climate change. Maybe it's warming up, maybe it isn't." It was only when a huge glacier started drifting and the BBC approached him and said, 'We're looking for someone to make a documentary on climate change - someone who isn't a scientist, someone who's worked with the world's best scientists, but still doesn't have a clue'. "And I thought, 'well, that's me then,' so I went for it," says Paul.
Paul feels that people like him are better suited for taking the message of climate change to the masses, as opposed to scientists who tend to overuse technical jargon, which only confuses and alienates the average person. In fact, he received the Royal Geographical Society Ness Award for "The popularisation of Geography and the wider understanding of our world".
Paul believes there is hope for the future - that the human race has come to understand the impact we have on this planet we call home, and he is optimistic that future generations will do what it takes to set things right. "I think we're going to crack it. I think that within 30 years we're going to make the right adaptations and we will have reduced our global population growth.
It's going to take a huge amount of work, to prepare the next generation for this. We have to set examples that will inspire them. With the right leadership, I believe it can be done," he says.
See also www.paulrose.org.