M.P. Suneetha Manel felt trapped. There was no one to turn to, no succour. She had begged and pleaded that she be sent home. She had suffered the hardships of a regimented routine of work, with hardly any free time.
The "Madam" in Lebanon didn't assault her or the "Bossa" sexually abuse her, but they didn't give her to eat, while she slaved day and night. Off and on, as hunger made her faintish, she would surreptitiously steal a rotti with a small piece of fried batu (brinjal) from the fridge, curl up, cover herself with a bed-sheet from head to toe and quickly gulp down a few pieces.
Suneetha was desperate, the "contract" (which she had never signed), she had been told stipulated that she had to work for two years, but the two years had gone by with her wages being sent back to her home every two months.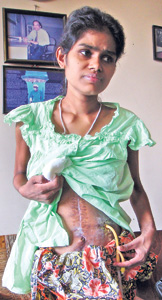 Suffering Suneetha
From the time the two years was up, she had been pleading that they send her home. Everyday there was a promise……in a week, a few days and the days became months and one year and eight months, with no wages.
What could she do to get them to send her back? She had not seen her little fatherless boy, who was being looked after by her aged parents back in Tambuttegama, for nearly four years. In her simplicity, Suneetha wanted to make Madam send her back home and on April 18, last year, a date "seared" not only on her mind but also her body, she brandished a bottle of toilet cleaner and took a few sips. "This was the type used to clean up all the black areas in the toilet and make them white," she says.
Writhing in pain, frothing and foaming at the mouth and also vomiting blood, it was only about one and a half hours later that Madam who was alone with her at that time, phoned her husband and took her with him to a small hospital close-by. They refused to attend to her and she was moved to a bigger hospital, where she was given saline and not much else for 14 days.
It was there that she came to know that she did not have an "akama" (Suneetha explains that this is a visa which allows her to work in Lebanon and also leave the country).
It was another 14 days before the employer quickly made a 24-hour "akama" and packed her off home, with a few pieces of clothing and not a cent. All this while, she couldn't eat. "Wathura tikak biwwahama wamane yanawa," says Suneetha, explaining that even when she took a sip of water, she had severe bouts of vomiting.
A walking skeleton, like images from the Nazi concentration camps, she managed to come back on May 21, last year, from which time it has been numerous visits to hospitals and operations to put her insides right, so that she could attempt to live a normal life.
Currently she is awaiting a "serious and major operation". Walking with difficulty, as she has a tube stuck in her abdomen to "feed" herself by pouring liquids such as egg, milk and fruit juices (the costs she cannot bear) into it, Suneetha who weighs only about 36 kilos talks slowly and laboriously, getting up many times to spit out the foamy saliva that has collected in her mouth. She cannot swallow her own saliva.
Her life story, similar to many others, tumbles out of her pain-wracked body. Married young, she was "badata masa hayai" (six months pregnant), when her husband, a paddy cultivator was bitten by a snake, leaving her without a means of supporting herself and the baby boy who was born three months later. Her parents, paddy farmers themselves dependent on the vagaries of the weather for an income, helped her, while she worked at a "hotel" in Tambuttegama town. Long were the hours she served at tables for a measly wage.
Then came the promise of a "good job" in the Middle East from "Anura", she does not even know his full name, who came as an "agent" to her area. He had a small "kada kamaraya" at Tambuttegama town at that time as his "office".
Several had already gone abroad through him. Yes, she had heard of the problems, but the lure, not unexpectedly, was too great. Her own cousin had gone once and had come back after "gederin penala" (running away from that house) and had returned after forging her passport with Suneetha's birth certificate.
Anura, the agent, however, had a solution. He made Suneetha a forged passport with her photo but someone else's birth certificate under a different name for a fee of Rs. 3,000, handing over the passport and ticket only at the airport just before she departed with four other women.
When asked whether she got any training, she says she did at a centre in Anuradhapura run by the Sri Lanka Bureau of Foreign Employment (SLBFE), on a chit given by Anura. It was for 12 days, after which she had to hand over the certificate to Anura.
She signed no contract and was promised Rs. 10,000-11,000 in Lebanon, with Anura's fee being her first two months' wages to be taken by Anura directly from her employer through an agency in that country manned by "an Arab and a Sri Lankan" whose names she does not know.
She humbly tells the Sunday Times that "there were many counters", when asked whether she didn't see the SLBFE counter at the airport. It was a bustling new world to her - the departure being the first time she came to the airport or even to Colombo for that matter.
Anura is now missing. His "office" had been closed, when her father visited the place, soon after hearing that she was having "karada" (trouble).
No insurance, no certificates, no wages…..only, pain, sorrow, loneliness in a Colombo hospital, awaiting a life-saving operation, while her parents cannot visit her for lack of money and the responsibility of looking after her 10-year-old son.
What of the future? "Me thathvayen midila, lunui bathui kaala, lamaya ekka inne," she says -- to overcome this plight and live with her son, even eating only salt and rice.
Help her
The major operation on Suneetha will be a "colonic substitution of the oesophagus", the Sunday Times understands because the "corrosive substance" that she drank burnt her oesophagus (gullet) and stomach. It will entail the bypassing of the oesophagus and stomach and the attachment of the large bowel to the pharynx and small intestine.
Cases of torture and suffering are many and women should be not be sent as housemaids. All this is due to the socio-economic issues faced by them which should be addressed here, was the view of many.
Suneetha and victims like her may be helped through a fund -- set up by a kind doctor for such contingencies when their medical bills and other expenses are unbearable -- by sending contributions to: the Hatton National Bank (Kotte branch) Savings Account No. 036020047158.
Non-regulation of sub-agents, a major shortcoming
Cabinet adopted the National Labour Migration Policy in April 2009, while Sri Lanka has also adopted the International Labour Organization-initiated National Policy on Decent Work in 2006. A strong institutional framework also exists to regulate and supervise the recruitment sector with the Sri Lanka Bureau of Foreign Employment ensuring adherence to defined standards and procedures, states a recent study conducted by Transparency International Sri Lanka. "Despite these efforts," however, "this sector is plagued by widespread allegations of malpractices, corruption and exploitation of migrant workers."
The majority of the migrant workforce consists of low-skilled labour, mainly women from impoverished rural areas. They are vulnerable to exploitation, have little bargaining power and are frequently ill-informed about their rights, points out the 'Integrity in Foreign Employment - An analysis of corruption risks in recruitment', the online version of the report which was released in December 2009 on International Migrants' Day which fell on the 18th.
Explaining that illegal recruiters who include sub-agents and unlicensed agencies along with touts and tricksters also operate in large numbers in all parts of the country, with those who provide forged documentation and other illegal services adding to the complexity of the recruitment process, the report stresses that a major shortcoming of the current legislation is the lack of regulation of sub-agents who act as a link between the job seeker and the licensed agencies.
"While licensed agencies hire sub-agents, they do not accept responsibility for their corrupt practices, a loophole that needs to be addressed," it states.