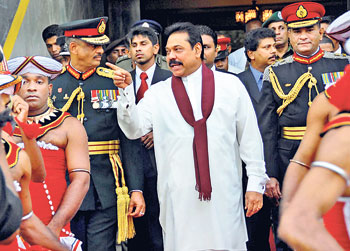 .Amidst speculation of a rift between them, President Mahinda Rajapaksa and Chief of Defence Staff Sarath Fonseka are seen in friendly conversation at the Army Tattoo held yesterday at the Premadasa Stadium to mark the Army's 60th anniversary. With them is Army Commander Jagath Jayasuriya. Pic by Sanka Vidanagama
In step with Mahesh and Menaka
They leap, twirl, and arch their backs with an agility that most of us can only dream of. Mahesh Umagiliya and Menaka Jayasuriya, founders of the Meranga Dance Academy are dancers with a passion for their art, evident in their every sweeping movement and graceful tilt of head.
Crisis over Russia's import duty on tea

A major crisis is brewing in the tea industry over Russia's excessive duties on Sri Lankan tea bag imports which has created huge problems for local packers.
Rupees 10 million security bill for SLC
In this post-war era where everything is simmering down to its former perspective, Sri Lanka Cricket has spent a staggering 10,066,223 rupees for security during the Pakistan and New Zealand Cricket tours of Sri Lanka.
Bill of health for the pill
Infertility? Cancer? Mood swings? Weight gain? The threat of one of these, let alone all four is enough to put a woman off the pill forever; but despite their worrisome reputation, birth control pills are among the most reliable forms of contraception.
Now Pakistan unhappy

Pakistan has expressed displeasure over a Cabinet Minister's remarks that destabilization in that country continues since late General Zia ul Haq staged a coup d'état.

Raj's arrest triggers panic in Lanka

Sri Lankan-born billionaire businessman Raj Rajaratnam's arrest in the United States on Friday on an alleged US$ 20 million insider trading charges has hit Sri Lanka like a thunderbolt with not only the Colombo Securities & Exchange Commission(SEC) here scrambling to check whether his million-dollar dealings bordered on any illegality, but also high-level politicians under a cloud for involvement with him.
The elections to the Southern Provincial Council have just been concluded, and the people of this country were witness to the same election violence and election violations that prevailed in the elections in the East, Uva, Sabaragamuwa, North Central Province etc., etc.
From Hero to Zero: The Fonseka fallout

- Political Column

The rain clouds over Colombo provided some shade from an otherwise sultry morning last Monday. Below, at its sports grounds, the Sri Lanka Army, celebrating its 60th anniversary, was adding another chapter to its chequered history.
The Mission of hope

In 2006, Tharushan Pathirajah, just one year old was diagnosed with a rare congenital anomaly of the heart. While his doctors had given up hope for the child, his desperate mother pressed on in her search of funds to have the complex surgery that was required to save his life.
Trouble in the palace of Kotte
King Buwanekabahu welcomed the envoy who came from Sitawaka and asked him what the message was about. It was a letter from King Mayadunne asking for pardon, for whatever wrongs he had committed. The message added that he was agreeable to a peace treaty.
MOST VIEWED ARTICLES




LATEST NEWS