The fighting was intense and the soldiers were under mortar attack. Many were dead around him. He was hit and saw to his horror his right leg blown off.
"Yatin kakula kada wetuna," says Asanka Pradeep Kumara Ilangasinghe, 23, explaining that the leg just gave way. The other leg was there, but must have been affected too for both were amputated at the hospital, recalls Asanka. His left hand was also broken and a finger amputated. It was December 22, last year and he was at Paranthan.
| | |
| --- | --- |
| | |
| Madushanka | Asanka |
The stories are many. For 20-year-old Madhushanka that day seems like yesterday-- September 2, last year at Kilinochchi. Nine of them were slowly and surely working their way towards LTTE lines. A claymore blast, blood and body parts scattered all over and his brother-soldiers were no more. Then the firing began and he fell, a numbness in his body.
"There was no blood," he says adding, "but I couldn't get up." Heavy fighting prevented reinforcements from getting to him for nearly five hours. They came at last and took him to hospital. Madhushanka is paralyzed from waist-down. A bullet had gone through his spine.
The army is a security net for them. Both Asanka and Madhushanka had been taken to hospital, the severe injuries attended to and then directed to Ranaviru Sevana at Ragama for rehabilitation.
But what happens when Asanka from Galnewa in Anuradhapura, Madhushanka from Matugama and thousands of others in the prime of their lives get back into society with long years ahead of them? How will they cope with their disability?
The issues faced not only by them but all men, women and children with disabilities or special needs are many - access to buildings or transport like buses and trains, demarcated seats…….the list is long.
A Disability Rights Bill drawn up in 2004 has become a bone of contention between activists for the rights of the disabled and the Ministry of Social Services and Social Welfare, the Sunday Times understands.
The Bill which addresses all these issues and was meant to replace the current Protection of Rights of Persons with Disabilities Act No. 28 of 1996 has still not been presented to Parliament, stresses blind lawyer and rights activist R.M.P.H. Gunaratna.
About 8% of the population will come under the disabled category, according to Mr. Gunaratna but in the case of Sri Lanka it may be about 12% taking into consideration those disabled by the war.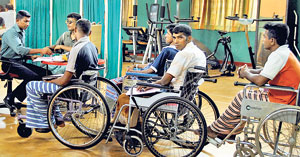 Disabled soldiers being rehabilitated at the Ranaviru Sevana at Ragama.
Dealing with aspects such as access to physical environment, insurance, a 3% job allocation, training, education, the Disability Rights Bill also pays special attention to disabled children, youth and women and people with severe disabilities, said Mr. Gunaratna who is a member of the Sri Lanka Council for the Blind and legal consultant for the Disability Organizations Joint Front and the Leonard Cheshire Disability Resource Centre.
Pointing out that the current Act has only one clause on the rights of persons with disabilities, he said the 65-clause Bill was a "vast" change in keeping with modern trends. "It is gathering dust in the ministry without being presented to Parliament even after having gone through all the procedures," said Mr. Gunaratna.
No consensus was reached, said the Deputy Minister of Social Services and Social Welfare, Lionel Premasiri, especially with regard to the setting up of a Disability Authority. The activists are pushing for an independent body, but such an important subject needs the support of the government because many issues have to be addressed and the National Council on Disability now in operation is the ideal.
Rejecting the estimated number of disabled given by Mr. Gunaratna, the Deputy Minister said about 5,000 had been disabled due to the last phase of the war. Surveys conducted in the internally-displaced camps, meanwhile, indicated that only about 4% of the people there were disabled. "So country-wide the disability figure may be about 7% or 8%," said Mr. Premasiri.
Sri Lanka cannot be compared to developed countries like England, he said, explaining that moves were underway to make accessibility to railway stations etc for the disabled a reality. "We are looking into how not only railway stations but also trains could be made accessible for those with special needs by making the compartments and the platform the same level, providing ramps and also Braille panels on station walls for those who cannot see."
The Disability Rights Bill will be presented to Parliament before the end of the year, assured Mr. Premasiri. Meanwhile, ministry Secretary V. Jegarajasingham refusing to comment on the status of the draft Bill said the National Council on Disability will be meeting on Tuesday and she should be contacted after that.
UN Convention Not Ratified by Sri Lanka
Sri Lanka has not ratified the UN Convention on the Rights of Persons with Disabilities, is another grievance of rights activists.
The Convention was opened for signature on March 30, 2007 and up to now 142 countries have signed it and 65 have already implemented it, said lawyer Gunaratna.
The Convention "promotes, protects and ensures" the full and equal enjoyment of all human rights and fundamental freedoms by all persons with disabilities and promotes respect for their inherent dignity, he said.