Two youths were arrested in Rajagiriya on Friday while attempting to palm off a new Montero Sport Utility Vehicle (SUV), valued at Rs. 11 million, which had been stolen three days earlier from a car sales centre in Mount Lavinia.
The youths were caught while negotiating a sales deal with an undercover policeman posing as a buyer. As soon as the robbery was reported, officers from the Special Crime Investigation Division of the Mirihana Police got in touch with car sales agents around the country. It was assumed that attempts would be made to dispose of the stolen SUV at the earliest possible opportunity.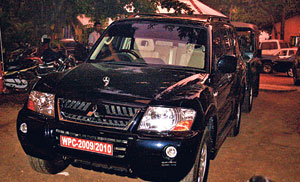 The Montero in question.
According to the police, one of the youths had visited the Mount Lavinia car sales centre on three consecutive days, expressing a strong interest in the Montero. He claimed to be the proprietor of two estates in Kurunegala and Nuwara Eliya.
On the third occasion, according to car salesman M. Mohammed Ramzan, the young man said he wanted to inspect the vehicle. "I gave him the keys, and I got into the front passenger seat," Mr Ramzan told the Sunday Times. "He then told me to sit in the back of the SUV, saying he wanted to check the strength of the air-conditioner, and whether the AC could be felt by the back-seat passengers. The moment I got out of the vehicle, the young man drove off."
The police received information that a car sales agent in Kurunegala had been approached by persons wanting to sell a new Montero. On police instructions, the agent told the youths to bring the vehicle to Rajagiriya to complete the transaction.
A police officer assigned to the case described the scene leading up to the arrests in Rajagiriya on Friday. "First, a young man turned up in an expensive car and spoke to the agent, who was waiting for him. The Montero followed soon after, driven by the other youth. The car dealer then got into the vehicle.
We blocked the path of the Montero. It took us a while to get the young men out of the vehicle. They thought we were trying to hijack the vehicle. We had to fire shots into the air and show our police identity cards before the young men got out of it."
The two youths –former students of an overseas tertiary education institution in Colombo – are being detained by the police.