Russia this week snubbed US Secretary of State Hillary Clinton when she tried to win Moscow's support for fresh sanctions against Iran. Do you think that sanctions work?
Not only Russia, but almost all countries are against sanctions. Sanction was the international political language of the 1960s and 1970s. It has lost its relevance and meaning today.
My country has survived four years of sanctions. And we will survive. Sanctions have failed. So there is little meaning in trying to bring in fresh sanctions. According to an Iranian saying a wise man would not be bitten by the snake from the same hole twice. Many countries feel that sanctions — a failed formula — should not be followed. The West's efforts are aimed at generating public opinion against Iran. Punishing a country that is trying to defend and pursue its legitimate right to nuclear energy cannot be justified.
There is speculation of a military attack on your country either by the United States or by Israel. How prepared is your country to face any attack? And how safe are your nuclear facilities?
I am not going to reveal our military preparedness or give any details about what we would do in such an eventuality. I think Iran has already delivered a message to those countries which may be mulling over a military attack. Our message is that Iran is ready to defend itself. But I believe the probability of an attack is close to zero. Yet, we won't take any chances.
Iran is surrounded by American bases and troops. US troops are in Iraq, Afghanistan and the Gulf. The Americans also have some radar facilities in Azerbaijan, their central command is in Qatar and they maintain close military ties with Central Asian republics. Won't Iran feel threatened?
Let me answer your question in a different way. The US came to the Gulf to besiege the countries in the region. But it has not succeeded. It is more or less trapped. There is a story about a war-hungry youth in Iran. It goes like this. The youth joined the army and wanted his commander to send him on a military expedition. The commander told him there was no expedition or operations planned. The youth told him that he was a specialist in taking captives. So he insisted on going to the front.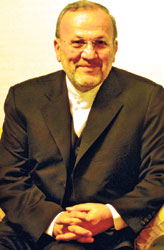 Manouchehr Mottaki: Iran is ready to defend itself.
The commander then sends him to the front. Days later, the young soldier wired to say that he had captured 200 enemy soldiers and called for reinforcements. The commander wired back to say he could not send reinforcements. The young soldier responded by saying that reinforcement was very important because he could not control the prisoners.
The commander then told him to send the prisoners to headquarters. The young soldier said they were not willing to come. An angry commander then asked the soldier to report back to headquarters. The soldier responded, "Sorry sir, they are not allowing me to come." The commander said, "They are not your captives, you have become their captive."
This is the US dilemma from which President Barack Obama is trying to extricate his country. He has said he is pulling out troops from Iraq. On this score, Iran is also of the same view. The US should also pull out its troops from other countries.
One of the most formidable challenges the countries in the region face is how to evict US troops. The US military presence in the region has severely damaged its international image. President Obama came to office saying he would restore it. We hope President Obama would take a wise decision.
Pro-US countries in the Gulf region, for instance, Saudi Arabia, are also concerned about Iran's rise as a regional power. Do you think they are pressurizing the Americans to weaken Iran?
I agree with 50 percent of your statement. Yes, Iran is a regional power. But if you look at Iran's history, it has not posed a threat to its neighbours for the past 120 years or so.
Iran believes in the principle of peaceful co-existence with all the countries. With regard to the Gulf countries, our common interests and commonalities run deeper and bind us together in a special brotherly relationship. Of course, we are aware that the Americans have been trying to disrupt this relationship by Iranphobia ideas. But we want to assure them that Iran is a brotherly country.
Iran has been saying it has no intention to make a nuclear bomb. Yet it has failed to convince the West. Why?
About two thirds of the countries in the United Nations support Iran's position. But I agree with you that some countries in the West are not convinced. They are like the man who pretends to be sleeping. You can knock on the door and wake up a person who is asleep, but you cannot wake up a person who pretends to be sleeping. Unfortunately, the West has chosen not to see the real situation. As a result, it is facing the implications of its unrealistic attitude.
Israel is said to be possessing 200 to 300 nuclear warheads. The United States and its Western allies do not say a word about these weapons or call on Israel to dismantle them. Cannot Iran tell the US to first deal with Israel before taking action to stop your country's nuclear programme?
Israel's nuclear weapons are not going to help it. The wars in Lebanon and Gaza showed that these weapons were of no use. I strongly believe that the West should deal with Israel's weapons. Israel is a doomed country. Its main problem is its illegitimacy as a country.
Iran, of course, is for total global disarmament. The United States should first dismantle its nuclear arsenal and then tell its allies to do the same. Iran has a good track record of supporting global disarmament moves.
In the 1990s, Iran spearheaded the campaign to ban chemical weapons. Similarly, we strongly call for and extend our support for a comprehensive convention on the elimination of nuclear weapons.
We believe that nuclear disarmament should begin with the permanent members of the UN Security Council.
Do you think that the International Atomic Energy Agency is a tool of the West and are you satisfied with Muhammad El Baradie's role as IAEA chief?
Mr. El-Baradie, when not under pressure, has held with Iran. Some years ago, the IAEA was about to close the Iran file, but the pressure from the war-mongering George W. Bush administration forced the agency to keep the issue alive. But no statement issued by the IAEA or Mr. El-Baradei says that Iran is diverting nuclear material to make weapons. We are cooperating with the IAEA.
We are going ahead with our nuclear programme. It is our legitimate right. Even the West recognizes this. That is why it is suggesting alternate solutions.
The demise of the dollar as international currency, especially in oil deals, is being predicted by some analysts. Your comments:
Iran made the decision to ditch the dollar and use other currencies in international trade four years ago. The US dollar which has been imposed on the world economy has reached the end of the road. Billions of worthless dollar notes have infected the world economy. It is one of the underlying reasons for the economic recession. Haven't you heard that some people say that the US dollar is not actually money but just a piece of paper? The replacement of the dollar as international currency is unavoidable.
Do you think it is feasible for like-minded countries such as Iran, Venezuela, Bolivia, and may be Sri Lanka, to form an international political bloc to oppose Western hegemony?
History shows that the downfall of powerful countries and the collapse of the edifice they built is largely due to their hegemonic policies. International public opinion is against such policies.
In the unipolar world that emerged after the end of the Cold War, the United States tried to dominate the world. But world public opinion was against such domination. World public opinion recognizes logic and challenges hegemonic authority.
A new world order shaped by countries like Iran and Sri Lanka is now emerging, challenging the old world order based on power. Power was the ultimate objective of the old world order which believed that might was right.
Bretton Woods was established on this basis. Its logic was the more money you have, the more rights you should have. Such a system was a flagrant violation of the universal principle of equality. Many countries had accepted the principle that power prevailed.
But our late leader Ayatollah Khomeini decided to defy the system and insisted that right was might. Any country that goes in the wrong direction is morally and spiritually weak and cannot be considered a power.
Clinton: Russia sees Iran threat
US Secretary of State Hillary Clinton has told the BBC that Russia now recognises the threat posed by Iran. Wrapping up a European tour in Moscow, Clinton said Russian leaders had in private said they were ready to act if Tehran did not meet its obligations.

Hillary Clinton
But Prime Minister Vladimir Putin, on a visit to China, said it was too early to talk about sanctions on Iran. Russian Foreign Minister Sergei Lavrov said on Tuesday that threats of sanctions were counter-productive.
Mrs Clinton told the BBC on Wednesday that Russia in the past six months had "moved tremendously" to acknowledge the threat of Iran's programme.
She said Russian officials, in private talks, had recognised the need to act if diplomacy failed.
"We are in total agreement on all of that," Clinton told the BBC. "And we are also in agreement that if our diplomatic engagement is not successful then we have to look at other measures to take, including sanctions to try to pressure the Iranians."
As a permanent UN Security Council member, Russia would need to back any fresh sanctions against Iran.