A group of more than 255 Sri Lankan asylum seekers whose boat was stopped in Indonesian waters en route to Australia ended their two-day hunger strike yesterday.
The group - consisting of 150 men, 29 women, 17 girls and 14 boys had accepted food late afternoon after a meeting with Indonesian officials, local immigration chief Harry Purwanto was quoted as saying.
"They have started to eat and drink. Alex (the group's unofficial spokesman) said the group apologised for launching the hunger strike. He said it was a wrong move," Mr. Purwanto said.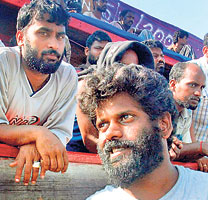 A boat person who identified himself as Alex (in foreground)
However Ambassador Nanda Mallawaarachchi speaking to the Sunday Times by telephone from Jakarta said, "We have not been able to gain access to the boat to speak to the people".
Major Gen (Retired) Mallawaarachchi said that on Friday he met International Organisation of Migration (IOM) officials in Jakarta, but they too had limited access to the people on board the wooden boat now being held in a port in Java.
Mr. Abdullah Zulkifli, Second Secretary of the Indonesian Embassy in Colombo, told the Sunday Times yesterday that the women and the children had agreed to move out from the boat and reside in a house, while four people who were critically ill have been taken to hospital.
The diplomat said they were also in consultation with the IOM and United Nations High Commissioner for Refugees (UNHCR) to see whether they could take over the boat people.
"We are not going to deport them by force. If anyone of them is willing to return on their own we will help them get back, but otherwise we are trying to give them over to the IOM and the UNHCR,"he said.
According to preliminary investigations, the boat people had first taken flight to Malaysia from where they had gone to Indonesia apparently in the hope of reaching the Australian territory of Christmas Island.
Meanwhile, Sri Lankas Foreign Ministry is awaiting a report on the outcome of talks between the IOM and Sri Lanka's envoy in Indonesia.
"Depending on the outcome of the talks, the government will take further action," Foreign Ministry Director General Ranjith Uyangoda said. Australian High Commission spokesman Sophia McIntyre told the Sunday Times Australian Prime Minister Kevin Rudd had discussions with Indonesian President Susilo Bambang Yudhoyono on the issue.
She said she could not comment on the current discussions as they were confidential but added, "If an asylum claim is made, this will be considered on its individual merits as per Australia's international obligations".
The Australian Broadcasting Corporation released TV footage of the asylum seekers. Some of them including a nine-year-old child spoke in fluent English.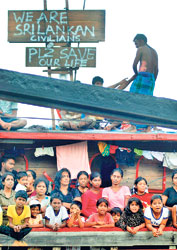 Sri Lankan people on board in Serang on October 15. Pix from AFP and Reuters
A girl, named Brindah, was heard saying, "Please help us and save our lives, we are your children. Please think of us, please, please. Please sir, please take us to a country. It's OK if it is not Australia. It's better if any other country takes us, we can't live in Sri Lanka," she said.
Another person identified as Alex, who claimed to be an English teacher said, "We have no choice, we have no country to go back to, we cannot go back to Sri Lanka."
Meanwhile Immigration Controller P.B. Abeykoon said that according to initial investigations, most of these people had left the country in a legitimate manner.
"To prevent illegal immigrants, all countries have to co-operate," he said.
Australia seeks Indonesia asylum- seekers deal-paper
SYDNEY, Oct 17 (Reuters) - Australian Prime Minister Kevin Rudd is considering trying to stem a flood of would-be asylum-seekers through a new alliance with Indonesia, a report said on Saturday.
In a plan reminiscent of the controversial "Pacific Solution" of his conservative predecessor John Howard, the Weekend Australian newspaper reported Australian aid would be massively increased and used to fund detention centres in Indonesia.
Under Howard, asylum seekers were processed offshore, mainly on the Pacific island nation of Nauru. Rudd's centre-left government abandoned that policy after his election in 2007, but critics say his stance has encouraged a new upsurge in arrivals.
The asylum-seekers mostly come from war-ravaged countries such as Iraq, Afghanistan and Sri Lanka.