Following an outbreak of the H1N1 virus (swine flu) among its students, the Lyceum International School in Nugegoda will remain closed till October 25, while the Lyceum Wattala branch will reopen on Wednesday the 21st. Both schools were temporarily closed last Thursday.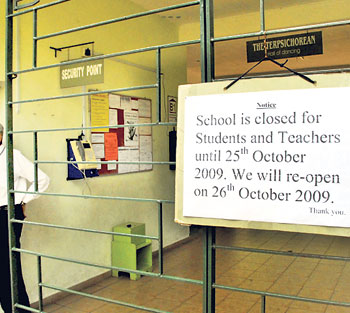 The closed Nugegoda branch
According to the Lyceum authorities, the school's first H1N1 case was reported from the parent school in Nugegoda.
Dr. Anura Senanayake, medical superintendent at the Fever Hospital in Angoda, told the Sunday Times that a total of 15 Lyceum students were treated at the hospital.
"We have had H1N1 positive patients from the Lyceum being admitted since Monday, and yesterday another nine were admitted," he said.
Last Wednesday, the school authorities made a request to parents to give their children face masks to wear in school, but the next day they decided to close the school temporarily.