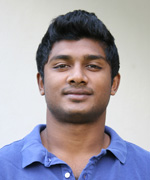 Pradeep Liyanage
The qualifiers for the Rugby Sevens World Cup Tournament 2009 will be held on October 4 and 5 in Hong Kong. There are twelve countries taking part in the men's tournament and nine in the women's. Thus the league stage will feature four groups for men and three for women.
The Lankan squad will be led by star Kandy centre Pradeep Liyanage. Coach of the side Nishantha Chanaka speaking to The Sunday Times said: "We have a young, but skilled team. We will miss Sanjeewa Jayasinghe and play maker Faazil Marija. However, we do have players like Ashan and Lasantha De Costa, Mohommad Sheriff and utility back Saliya Kumara. As for the forwards Ashan Karthelis, Wasim Thajudeen and Isipatanian Sajith Saranga can match up to the best."
He added; "Obviously our aim is to win the tournament, but our first target is the semi finals. To get there we have to beat Hong Kong. If we execute what we have practiced, we should be able to beat the hosts. Remember last year we lost only by one try and I believe we are going up against the same bunch of players. What is most encouraging for me is that all the boys are extremely determined to give it their very best on the field and in the process bring honour to Sri Lanka."
The Sri Lankan men's team will play India on the first day and just five hours later take on hosts Hong Kong in the make or break tie. If Sri Lanka emerge victorious in both their games, they would then take on Asian Power house South Korea on the second day. A whole bunch of hypothetical scenarios follow. However, if the Lankans can beat Korea as well, barring a massive they would face pre tournament favourites Japan in the final.
The women's team go up against on China also on the first day followed by the Arabian Gulf. Obviously to progress no team can lose even a single match. Thus Lanka's women's team too would need to win both their matches to enter the semi finals.
During the round robin stage on the first day, no extra time will be allowed. The victor would get three points, while the losing team will get one point. In the event of tie, both teams will get two points a piece.
Strict anti doping procedures will in place throughout the tournament.