Sri Lanka Cricket in a another damage control attempt is liaising with their English counterparts in even compressing the proposed Sri Lanka tour of England so that they could gain a few days to accommodate the Lankan seniors to play in the second season of the Indian Premier league twenty20 tournament next year.
The Sri Lanka Cricket Chief Executive Officer Duleep Mendis speaking to The Sunday Times confirmed the above. He said "We are trying to gain a few days even by compressing the proposed tour of England next April so that the entire Lankan contingent could be accommodated. However the scheduled tour dates may not be changed."
Meanwhile Sri Lanka Cricket Players Association president – former Sri Lanka opening bowler Graeme Labrooy said "We began discussions with Sri Lanka Cricket Officials last Monday. The national cricketers are very keen to play for Sri Lanka, but playing cricket is their profession. In that scenario they also have to make a living with a very limited time frame and opportunities of this nature does not come very often".
Meanwhile Sri Lanka cricket's decision to lift the ban on players involved with the rebel Indian Cricket League had mixed reactions.
Sri Lanka Cricket had last year banned its five ICL players -- Marvan Atapattu, Russel Arnold, Upul Chandana, Avishka Gunawardena and Saman Jayantha -- from playing any official cricket matches.
The decision came two days after the Bangladesh Cricket Board (BCB) joined its counterparts from India, Sri Lanka and Pakistan in banning 13 players, including former captain Habibul Bashar for signing with the ICL. Earlier the BCCI not only barred any ICL player or official from taking part in official cricket, but also convinced other boards to take similar action against their 'rebel' players.
Meanwhile in India BCCI reacted "We are concerned but this will be decided at the ICC level," BCCI secretary Niranjan Shah said from Chennai, reacting to the latest development that has angered the BCCI.
Very imprudent says Ana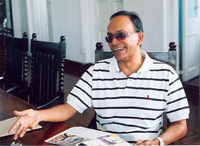 Ana Punchihewa – the former President of the Board of Control for Cricket in Sri Lanka is of the view that it is very imprudent to antagonize a powerhouse of cricket like India at this juncture. Punchihewa was commenting on the wake of Sri Lanka cricket lifting the ban of the Sri Lanka Cricketers who were engaged in the rebel Indian League Cricket – the twenty20 segment which is not recognized both by the BCCI and the ICC.
The former president Punchihewa who held reins of Sri Lanka Cricket when they won the World Cup under the incumbent Chairman of Sri Lanka Cricket – Arjuna Ranatunge, came straight off the cuff. He said "This morning when I saw the papers I began to wonder what on earth was happening.
"I think this is a very imprudent move on the part of SLC. Whether you like it or not India is the powerhouse of Asian Cricket or for that matter world cricket as a whole. At the same time we also must remember that Sri Lanka has to host the 2011 World Cup in this very same place with India playing a huge part in it."
Elaborating on the matter the former BCCSL President said "I am aware that the ECB also had some problems with ICL players being involved a tournament and the Indian Cricket Authorities being vehemently against any player who were involved the ICL being permitted to take part in that tournament.
"To be more precise I will tell you under my presidency when the 1996 World Cup was held in the Indian Sub-Continent Australia and the West Indies refused to play in Sri Lanka. At that time sticking to our Asian bondage India and Pakistan sent a joint team comprising all their top players to play a game called the "peace match". Do you think that if Sri Lanka is in a spot of bother in the future the so called Western powers would come to our aid? I do not think so".
Another cricket insider who opted to stay anonymous said "Just look what Sri Lanka cricket doing to itself by lifting this ban. Already thirteen players have signed up with the IPL and are on contract so that they would have to honour it over their national commitments. So far there are five players from Sri Lanka who have signed up with the ICL which is due to start at the beginning of next month.
"What would happen if the ICL decides to sign up several additional players into their foray? Are they aware that the Premier League Cricket tournament will also be conducted simultaneously to the second season of the Indian Cricket League? On an issue of that nature what would happen? The loser as a whole would be the Lankan tournament. I earnestly hope that sanity would prevail and Sri Lanka Cricket would come out of this predicament unscathed".

Great move says Marvan
Former Sri Lanka captain Marvan Atapattu who made an emotional departure from international cricket during Sri Lanka's last tour of Australia calling the Lankan Cricket selectors "Muppets" before joining the Indian Cricket League welcomed the SLC move to lift the ban imposed on them and giving them permission to play in the domestic tournaments.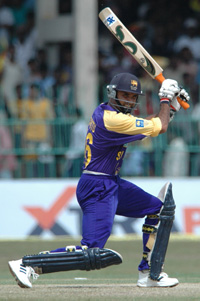 Atapattu speaking to The Sunday Times said "I think it is a great move by the SLC to lift the ban on those who were involved in ICL cricket. Generally most cricketers chose this sport as their livelihood. However, what do they get by playing domestic cricket alone? May be a section of those cricketers will get a chance of playing league cricket in England. Even if you put both together do you think they get a stipend to carry on with a decent lifestyle?"
The ex-Lankan opener elaborated "Now at present a section of Lankan current cricketers have signed up with the IPL, and they are making huge packets. Then what about the other players who miss the bus and cannot take part in the ICL because they run the risk of getting banned, automatically they will get frustrated. "If it is so they must ban cricketers taking part in both ICL and IPL".
When inquired if there will be other players who would join the bandwagon as the doors are opened for them Marvan Atapattu said "I am not aware of any one other than those who have already signed playing in the ICL so far, but, there have been some inquiries. However, even for the ICL you have to be taken through invitation and it is not a job that you apply and get. It is purely on merit and depends how skillful you are in your given profession."
Airing his views on twenty20 cricket Atapattu said "I think very soon only the twenty20 version of cricket will survive. Once this older generation marches off there wouldn't be any one left to be interested in Test cricket. Even now tell me how many people watch Test Cricket other than the players themselves?
Finally, when The Sunday Times asked if he would return to international cricket if he is requested to do so, Marvan said "The ball is in their court. I retired due to the circumstances that prevailed at that time. If they happen to invite me to take a decision, I will do it at that time. I have chosen cricket as my profession".
Interim Committee member Sidath Wettimuny speaking on the lifting of the ban to The Sunday Times said "This was truly a humanitarian gesture. We had some requests from various clubs to lift the ban and we took a very close look at it. However we are quite positive that these cricketers will only be considered for domestic cricket. I also must reiterate that this was not done to antagonize the Indian cricket authorities or the ICC".
The ICL second season will run for 4-5 weeks from October 1, 2008.