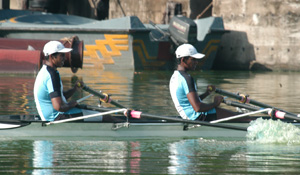 The Ladies College pairing of Amaya Jayasuriya and Sarani Jayawardena rowing to victory in the Intermediate Women's Double Sculls category. Pic by Ranjith Perera
Colombo Rowing Club (CRC) retained the men's open crown at the 24th Rowing Nationals which concluded at the Beira Lake yesterday. CRC were pushed to the limit by S. Thomas' Mount Lavinia who even won the men's open fours with a time of 3. 27. However, CRC with two gold medals and two silver medals closed out their rivals who managed to get two gold medals and two bronze medals.
But the whole event literally belonged to Ladies College Colombo who the fabled boards. The lasses from Flower Road won the women's open category, intermediate women's category and the junior category. In the open event Ladies College emerged victorious in three events, the intermediate saw Ladies College winning four events and coming in second in two and in the junior category they claimed four gold medals, five silver's and two bronze medals. The Ladies College team was led by Varunika Samarasinghe with Amayi Mandawala as her deputy.
Coach of the Sri Lanka national Rowing team Lakmal Wickremage who was at the nationals, speaking to The Sunday Times said; "I have witnessed some outstanding talent here. The entire Ladies College and team is really good. Then there was Guyan Jayaratne, Udesh Hettiarachchi and Mevan Gunawardena from the Colombo Rowing Club. Sachitra Jayatilleke from Musaeus College performed well as did Sajeev De Silva and Devan Hallock from S. Thomas' Mount Lavinia." Hallock incidentally was the vice captain of his school's first 15 rugby team. Wickremage added; "We are not sure as yet whether we will send a couple of rowers for Asian Junior Rowing Championships which will be held in November in Hong Kong. But we will certainly be picking a pool at the end of this year Asian Championships to be held in October 2009 in Taiwan. The results and performance at these nationals will go a long way when we sit down to select the squad. We want to start training from January itself which is why we intend on selecting the pool so soon."
The other big winners at the nationals were S. Thomas' College Mount Lavinia. They won the intermediate category with two golds and two silvers. In the junior category S. Thomas' came first in four races, second and third in three races respectively. The Schoolboy Sculler category was won by Thivan Jayatilleke of Royal College who finished with a time of 4.17, while Swarnamali Wijesinghe of Musaeus College won the Schoolgirl Sculler category with a time of 4.35.
A carnival atmosphere prevailed with live music and a DJ to boot and the Colombo Rowing Club was packed to its lovely rafters as well as its long green lawn with enthusiastic supporters from all the participating teams.