The game of cricket is such a complex sport that the inventions don't stop. It has never been played for too long before something different, something controversial, crops up. When one topic of conversation begins to subside another surface. In the beginning they bowled under arm! In 1828 round arm bowling was permitted. Now, in international cricket there is one round arm bowler, Sri Lanka's Lasith Malinga, and he's considered a freak! It was only in 1864 that over-arm bowling was made compulsory.
During these times an English player by the name of "shock" White brought out a bat that was as wide as the stumps. More than one hundred years later a famous fast bowler Dennis Lillee, came out to bat, with a bat made of aluminum. Neither lasted much time. White's gimmick prompted the law-maker of Marylebone Club restrict the width of a bat to 4¼ inches. English Captain Mike Brearly (now the president of the MCC) protested and Lillee had to swap aluminum for willow.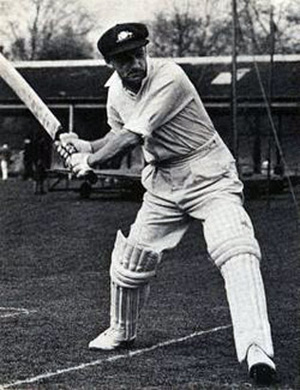 Bradman was a man ahead of his time.
The game was raised many notches and began taking its initial steps towards its current professional status. In 1930 the game was still played at a leisurely pace, a summer sport which attracted thousands of bowlers. Bradman amassed 974 runs in the five match test series at an average of 99 per innings. He was a man ahead of his time. His commitment and striving for excellence even bettered the modern day player. He paid attention to every minute detail of the game and had the steely determination to succeed and only succeed. He could be classified as the first sporting idol of this planet and how richly he deserved that status.
In 1931 the raising of stumps by one inch to give the bowler a better chance to get a batsman out bowled or LBW. However that was not necessary when England went on tour to Australia in 1932/33. The England Captain Douglas Jardine decided to get his fast bowlers to bowl at the batsman's chest and throat area with a packed leg side field. It was a controversy, which almost led to relationships between the two countries being severed. England won the series, but the main motive was to blunt the batting powers of Don Bradman. The great man found a method – to move to leg and hit the ball to vacant areas in the off side. England felt they won the battle as Bradman averaged ONLY fifty in the series!
During the first half of the twentieth century bowlers began to gain ascendancy, in what was otherwise a game totally dominated by batsmen. Of course pitches were not covered then and play commenced even when pitches were soft, making batting a nightmare on such surfaces. Bowlers too struggled to get a foothold and could not deliver consistently. But bowlers experimented with variations. Pace, swing, cut and different types of spin started becoming part of bowler's armoury.
After the Second World War the game began to lose its spectator popularity. The sport, like most other major sports, survived on gate collection. Gradually a new support system began to take root in the form of sponsors. Now who can do without them? Although the game was slipping back in the home country England, its popularity was increasing in Asia, the Caribbean and to a lesser extent in Africa. To stay alive, the English introduced limited over cricket to their country game and also invited overseas stars to their domestic circuit. It brought about an immediate turnaround. The experience was also welcomed by many overseas players.
The 1975 World Cup changed the face of cricket. When the memorable centenary England – Australia game was played two years later, the cricketing gospel had begun to reach the farthest parts of the world. Then controversy again, as Kerry Packer aimed to disrupt tradition because his TV company could not secure the right to televise Australian international games. Now it could be called a blessing in disguise. Firstly, the players began to reap financial rewards for their efforts. Today they earn mega bucks compared to then! The one day game got even more popular.
To re-ignite the English domestic game twenty-twenty cricket was introduced – and what a spectator success. Many old heads shake to and fro in disapproval. It is a sign of the times. Plenty of action, a quick result, to hell with technique and the finer points!
There are two more recent developments. With television and its technology progressing at a hectic pace the call is to make the most of it. So on to the referrals. Some players were truly agitated, particularly the batsmen. There is bound to be serious discussions on what took place in the Sri Lanka – India test series.
The other being the "switch-hit" innovated by Kevin Pieterson. A similar stroke, the reverse sweep, was attempted in the late nineteen seventies and has now come to stay. Some batsmen play it with success whilst other fall victim in attempting and are made to look foolish. Pieterson has brought about a change in stance position. The wide and the lbw laws do not get affected by this switch. Should this be attempted more often by players then more thought would have to be given to the implementation of those laws.
For the moment, it has been accepted, with the M.C.C. saying, "It needs great skill to execute, has risk to the batsman and offers the bowlers a good chance of taking a wicket." There will be men on the field and men in the commentary rooms, many of them radical thinking who will continue their journey of discovery in this wonderful sport of ours. There is plenty of cause to be happy.
Ranil Abeynaike is a former Sri Lanka cricketer and curator of SSC