The age old adage about the pack of sticks always has intrigued me. It's about the old woman advising her disagreeing grandchildren the wisdom of togetherness and how she asked them to break a pack of sticks bound together and once again requested them to take them one-by-one and break them. Simple logic, but a thing that has not been able to get into the heads of many an institutional head who are taking this country and the allied works towards its final destiny.
Making a sermon to those knuckle-heads who are engaged in politics is not my business.
But, we think it is our duty to drive some sanity into those in charge of sports in this country and who are under the impression that they are the know-alls that could guide any given sport to its final destiny just because they have played the game at the highest level.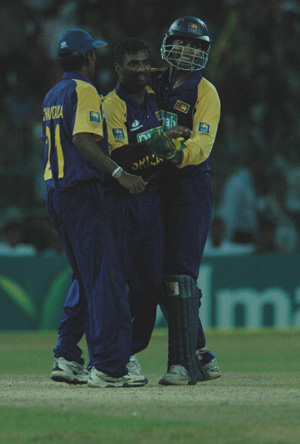 Will Lankan cricket suffer as a result of these latest developments?
At the same time they are obsessed with their own convictions so much that they do not stop at anything to get to their desired seats – no obstacle stands tall in front of them nor would any obstacle run deep enough. In short, they would stoop down to any level or scale any slippery wall to get there. The result -- when they finally go on to occupy the chair the bitterness that they experienced upon their travails keeps exuding from their actions thereafter.
Let me drive more to the point. Recently while discussing the hottest topic in sport in Sri Lanka – Cricket (Well… Sanjeewa Jayasinghe hijacked it for a moment or two) with my contact who is also a cricketer who has played the game at the highest level and a person who keeps a very close eye on the proceedings in the middle, drove home a few salient points. Sadly, so far he has shunned the administrative aspects of it and has put his focus into a subject that brings more honour to the Sri Lankan Cricketing cause.
Very bluntly he got on to business. He quipped "What is our next priority in cricket?" I looked blank for a few seconds when he helped me out of my predicament. "It is the 2011 World Cup. That is what we have to prepare for. Mind you it is being played in Sri Lanka, India, Pakistan and Bangladesh."
Then the whole episode took an unexpected turn. He continued "The specialty of this is that when it was held in this region Sri Lanka ran away with the trophy. But, now with less than a 1000 days remaining for the event, are we prepared or even preparing ourselves towards that goal?"
As a vocation he scrutinizes the game of cricket at very close quarters, not only on the local playing field, but, on foreign lands where even the 'big guns' keep firing at each other. So the knowledge that he accumulates as a result is incomparable.
As expected he dropped the bomb. He continued "Right at present the Lankan limited version of the game is not at its best and we even keep losing home series on a regular basis. There are gaping holes in our batting structure in this segment of the game, but nothing meaningful is being done to solidify it." Then changing gears he switched the subject. "At the same time I see another very sinister move developing in the Indian subcontinent. Without beating round the bush I will say it is the repercussions of forming the Indian Premier League or in shorten form the IPL and the Indian Cricket League. Since the IPL and the ICL stormed into Asian cricket and stole its focus, the entire cricket playing gentry have got hooked on to it just like unsuspecting gets entangled for life on to the fisherman's rod."
More logical arguments were on its way "Now in Sri Lanka there is a huge rift between the administration and the players owing to the IPL. In Bangladesh already lost more than a few players who have resigned from the mainstream to engage themselves in 'money cricket' in the ICL. They are now in the process of building damage control fences to preserve whatever that is left in Bangladesh Cricket. In Pakistan more factors than the IPL have put its cricket into chaos, but, 'money cricket' has also played a huge role there.
"But, not surprisingly what has happened to Indian cricket? It has sailed from strength to strength, since the formation of the IPL and wittingly or unwittingly the ICL. They not only have got into a huge focus slot, but, keep unearthing new players of the caliber of Badrinath and Rohit Sharma. To drive a point further by 2011 most of today's so called seniors may not be there in action for the World Cup representing India – that is their focus right now. Mind you this was a team that could not enter the proceedings in the final rounds of the last World Cup held in the West Indies".
My awe at his concern and in-depth study on the matter took precedence. He calmly continued "At this end what have we done? We have miscalculated the whole issue. Already one hastily organized tour is in jeopardy and is also threatening to take our cricket apart. I see that from the very basic beginning we have handled this situation without any foresight. The right way of handling this situation is not to go and organize rival tours and try blocking the participation of players in the IPL.
This was the second occasion that the Lankan administration has done that. Wouldn't it have been more prudent if our administration had spoken to the Indian administration and agreed upon a more workable IPL play chart for our cricketers? I agree that cricketers should being sportsmen who have a limited professional life should make the maximum during their limited period while in the field. But, it also should reflect more on the national cause than the individual cause. It is here that a professional administration comes into play.
"I believe our administration upon the development of a 'money cricket' situation of this nature had a discussion with the players and arrived at an amicable solution."
The argument was getting more intense. There were more points to ponder "Just see within the time limit to the next World Cup we will be playing eight ODIs against Zimbabwe and Bangladesh during the rest of 2008, Fifteen ODIs against India, Pakistan and New Zealand in 2009, a tri-series involving India and another five ODI series against India in 2010. We are also billed to play a tri-series in Australia in early 2011 just before the World Cup, but with Australia's new Policy of chopping the year-end tri-series that too may be off. This means we will be playing only about forty ODIs during that period and along with the Asia Cup.
"At the same time the Lankan administration has antagonized their Indian counterparts and this too may not augur too well towards the Lankan cause. As a result a change of the cricket administration on an urgent basis has become imperative. In the midst if there is a cricket election Lankan cricket may plunge into further chaos and I am sure it is going to be a bloody battle fought on and off the field. At this juncture what I see is to have another administration involving all the warring factions and get them work on a broader framework with national cricket taking precedence of petty politics".