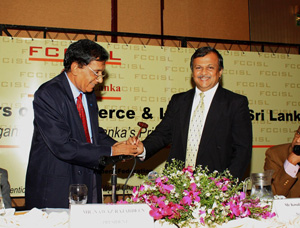 Picture shows - Nawaz Rajabdeen, outgoing President, FCCISL handing over the gavel to the new President-elect, Kosala Wickramanayake.
Nawaz Rajabdeen last week stepped down as President, Federation of Chambers of Commerce and Industry (FCCISL) of Sri Lanka after a revolutionary period where he steered new initiatives in post-tsunami reconstruction and drove the steps to set up chambers across the island.
After a period of 3 ½ years as FCCISL chief, he handed over the affairs to newly elected President Kosala Wickramanayake at the AGM of the chamber, according to a press release from the FCCISL. Mr Rajabdeen spearheaded the 'Back to Business" and "Business for Peace Initiative" in post-tsunami and the peace process era which deviated from the conventional chamber activities. This project also won the Best Unconventional Project for SMEs at the 5th World Chambers Federation Competition in July 2007.
Relinquishing his duties as President, FCCISL, he said that he has taken steps to strengthen the FCCISL Secretariat with a centralized management and strengthened the financial resources. In 2005 when he took over turnover was Rs 45 million but at the end of 2007 it was Rs 255 million and after tax profit was Rs 13.4 million.
Mr Rajabdeen paid a glowing tribute to Samantha Abeywickrama, Secretary General/CEO, FCCISL for "using his professional skills and wisdom in project formulation and negotiation which made Federation a unique organization in the chamber landscape in Sri Lanka."
He said that many of Mr Abeywickrama's brainchild projects such as the Back to Business, the Business for Peace Initiative, the Regional Chambers of Sri Lanka and many others are multi-million dollar projects and are outstanding in terms of development strategy, and benefits to membership and business community. They have earned local and international recognition, he said according to comments released by the chamber in a press statement.
Mr Rajabdeen said the FCCISL is equipped with a team of professionals and the chamber has become a centre of excellence in chamber services not only in Sri Lanka but in the whole of South Asia. Mr Wickramanayake takes over as the 15th President and prior to his election, he was the Senior Vice President.