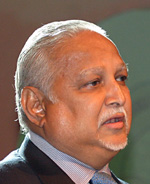 Harry Jayawardena
The Annual General Meeting (AGM) of the Harry Jayawardena-controlled Distilleries Company of Sri Lanka (DCSL) held on Thursday saw Mr Jayawardena, Chairman DCSL, berating a shareholder and threatening to expose him, shareholders who were present at the AGM, said.
"A shareholder by the name of 'Mr. Theagarajah' raised a question asking why the DCSL directors do not hold shares of DCSL in their personal capacity. This angered Mr. Jayawardena," one shareholder said. He said that Mr. Jayawardena had asked Mr. Theagarajah why he was repeating this question. "He said things to the effect of, 'This question has been asked many times. You are having an agenda. You are a professional and as a professional you should not be asking such questions. You have an agenda (in asking this question). If you keep on asking this I will have to come out with things about you'," the shareholder quoted the DCSL chief as saying. He said the AGM saw Mr. Jayawardene being arrogant – at most times - to the shareholders. Independent verification of what transpired at the meeting was not possible as Mr Jayawardene was not available for comment.
Before the meeting began, a minute's silence was observed in memory of former DCSL Chairman Dr. V.P. Vittachi, who died last week. Mr. Jayawardena in his review contained in the annual report has said that several persons filed two fundamental rights applications in the Supreme Court challenging the sale of Sri Lanka Insurance Corporation (SLIC) in which the judgment is pending. "Your company has defended these allegations rigorously through an eminent team of legal luminaries," he has said. DCSL which is Sri Lanka's dominant hard liquor manufacturer with investments in diverse businesses has posted a consolidated net profit of Rs.1.15 billion in first quarter 2009, down by 16% compared to Rs.1.37 billion in the same period last year.