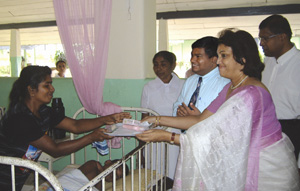 Picture shows Chairperson \Managing Director of Swadeshi Amari Wijewardene (extreme right), Medical Superintendent at the Base Hospital – Dambadeniya Dr. P.V.D.S. Dharmagunawardene and M. A. Anandasoma of Swadeshi at the opening of the new ward.
Children seeking treatment for diarrhoea at the Children's Ward of Base Hospital in Dambadeniya can now recuperate in a brighter environment thanks to a community project funded by Sri Lanka's leading personal care products manufacturer the Swadeshi Industrial Works PLC, the company said.
The project under the banner of the Swadeshi Khomba Baby Care Range, has funded an extension of the existing children's ward to create a section exclusively for the treatment of diarrhoea cases. The new section was handed over to hospital authorities by Swadeshi Chairperson/Managing Director Amari Wijewardene during the annual Dambadeniya Raja Maha Viharaya Dalada Perahera season.