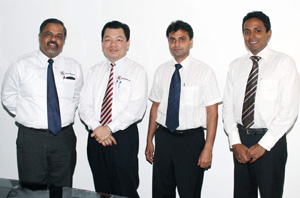 From left -- Jayampathy Arambepola, Country Head - Sri Lanka Holographic Labels SND BHD, Foong Wan Hong, Chief Executive Officer Holographic Labels SND BHD (Malaysia), Thivanka Rangala, Group Chief Commercial Officer Dialog Telekom PLC and Shankar Dharmaratne, Unit Manager – Business Development Dialog Telekom PLC, soon after signing the contract.
Holographic Labels SDN BHD of Malaysia, a leader in security labels, has joined hands with Dialog Telekom PLC to instantly detect counterfeit products via SMS.
Products affixed with holographic labels have several security features that cannot be tampered with or replicated. Using telecommunication infrastructure for authentication, customers can instantly detect fakes by sending an SMS with the serial number on the holographic label on the product to '4656'.
This initiative is aimed at protecting consumers from falling victim to fake brands and products, a Dialog press release said.