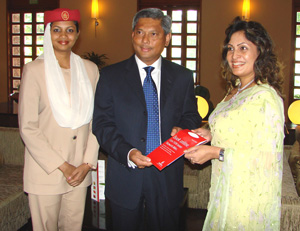 Seen here -- Emirates Sales Manager Devika Ellepola (right) presents a laundry tag to Trans Asia Hotel General Manager Neroy Marso.
Emirates and Trans Asia Hotel is offering hotel clients an opportunity to win Skywards Miles and experience the airline's award-winning product, via an innovative new promotion.
Customers of the hotel's popular launderettes will receive a surprise when they pick up their business suits and corporate attire over the next three months, in the form of an attractive laundry tag that offers them a chance to win up to 250,000 Skywards Miles from Emirates' frequent flyer programme every month, the airline said.
Commenting on this novel promotion, Trans Asia Hotel General Manager Neroy Marso, said: "We are delighted to partner with Emirates on this innovative promotion, and are confident that it will add greater value to our patrons' dining experience at the hotel." Using the laundry tag as an innovative communications medium, Emirates said the recipient can fly the new Emirates Airbus A380.