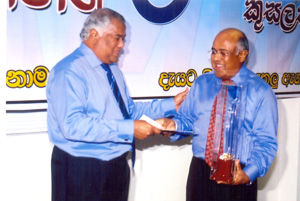 Picture shows Mr Ajita De Zoysa (left) handing over the award to his younger brother Mr Tilak De Zoysa.
Chairman-designate and Managing Director of the Associated Motorways PLC Tilak De Zoysa was recently recognized with a long service award for 30 years service by the outgoing Chairman of the group Ajita De Zoysa at a ceremony held at the company.
Other award recipients were Deputy Managing Director Ranjan De Silva, Personnel Manager Marcus Liyanage for 20 and 30 years service along with 10 other employees.
Besides this children of staff who have excelled day the year 2007 for academic co-curricular and extra activities also received merit awards for excellence in their respective areas.