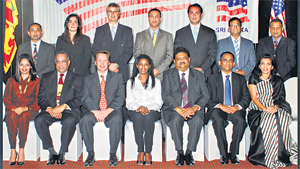 Seated (left to right): Parveen Dassaneike, Nimal Cooke, Martin Dudek, Moji Akingbade (President), Vijaya Ratnayake, Prasath Nnayakkara, Rezani Aziz. Standing (left to right): Sriyan Wijeyeratne, Kami Witmer, Jay Keller, Gordon Glick, Jean-Pierre Assaf, Priath Fernando, Amal Rodrigo
The new members of the Board of Directors of the American Chamber of Commerce in Sri Lanka were appointed at the 16th Annual General Meeting held recently.
They are Moji Akingbade (General Manager, Paxar Lanka) – President; Martin Dudek (Country Manager, DHL) - Vice President, Vijaya Ratnayake (Managing Director, Zodiac Medicals) – Treasurer, Prasath Nanayakkara (Head of Business Enablement, Virtusa) – Secretary, Jean Pierre Assaf (Managing Director, Hayleys AIG) - Director, William Costley (General Manager, Colombo Hilton) – Director, Sriyan Wijeyeratne (Country Manager, Microsoft) – Director, Nick Nicolaou (Chief Executive Officer, HSBC Sri Lanka)- Director, Priath Fernando (Chairman and Managing Director, United Tractors) – Director, Rezani Aziz (PR Practitioner and Director, Burson Marsteller) - Director, Parveen Dassenaike (Director, United Holidays) – Director, Jay Keller (Chief Information Officer, MAS Holdings) – Director, and Amal Rodrigo (Country Manager, Maersk Lanka) – Director.