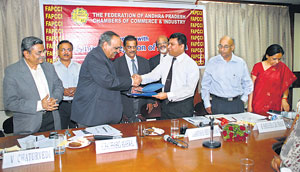 In the picture are Suraj Prasad Agarwal, President, FAPCCI and Samantha B Abeywickrama, Secretary General/CEO, FCCISL exchanging the documents after signing the MoU. Others in the picture are officials of FAPCCI – V. Chaturvedi, CEO, Global Development Consultants, Shiv Kumar Rungta, Chairman, Foreign Trade Committee, Ramakrishna Rao Chitturi, Director, International Trade Facilitation Centre, V V Sanyasi Rao, Managing Committee Member, K. Harishchandra Prasad, Senior Vice-President and Ms M Hemalata, Secretary, FAPCCI.
Negotiations on the India and Sri Lanka Comprehensive Economic Partnership Agreement (CEPA) are almost complete and the two sides are now ready to sign the agreement which will include investment and services, a chamber official said.
Samantha B. Abeywickrama, Secretary General/CEO, Federation of Chambers of Commerce and Industry of Sri Lanka (FCCISL), made this disclosure while speaking at the recent signing in Andhra Pradesh of the Memorandum of Understanding between the Federation of Andhra Pradesh Chambers of Commerce and Industry (FAPCCI) and FCCISL.
The MoU is aimed at fostering friendship and to promote trade, investment, social, economic, human resource development, technical and scientific cooperation, friendship and other spheres of economic activity.
FAPCCI President Suraj Prasad Agrawal said the early conclusion of CEPA will have an added impetus to the ongoing Indo-Sri Lankan economic partnership. He said that to boost SMEs in Sri Lanka, India has extended three lines of credit for exclusive procurement of goods and services from India to enhance the purchasing power of Sri Lanka.