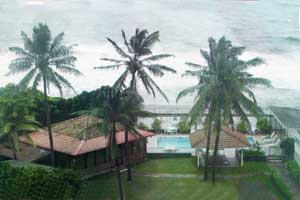 View of the property
The former British High Commission premises – 434 perches of prime land – adjoining the American Embassy and 'Temple Trees', the residence of President Mahinda Rajapaksa, is up for sale and could be worth more than a billion rupees, according to advertisements placed in local newspapers this week.
The same information has also been placed in the website of Savills, an Australian property developer, which has been selected as the exclusive marketing agent along with Sri Lanka's well-known Schokman & Samarawickreme, to sell the property owned by the Foreign and Commonwealth Office (FCO) of the British Government.
Navinda Samerawickreme from Schokman & Samerawickreme said there were no restrictions on the purchasing party despite the high security location of the property at Kollupitiya . "There are no restrictions. It is sold in the open market and anyone can buy," he said, adding that no price has been set forth in the newspaper advertisement. "We are calling for an expression of interest and prospective buyers will have to send us a bid." He said the Savills website was giving a benchmark of Australian $9.5 to 10 million but that they are interested in getting the highest value. Real estate agents told The Sunday Times FT that a perch in that area was valued between Rs.5.5 million to Rs.6 million which would put the total value of the property at around Rs 2.6 billion.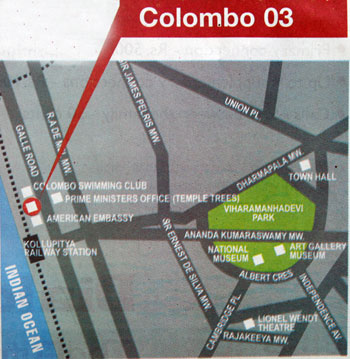 Location map appearing in advertisement
In its website, Savills said it secured the 'job' after selling the Australian Embassy in June 2007 for around $4.9 million, which was purchased by aggressive Sri Lankan entrepreneur Dhammika Perera. The website ad says the unique waterfront site of 10,977 square metres has an 81.7 metre frontage to the Indian Ocean and comes complete with a seven-storey commercial building of about 3000 sq metres, large front and rear garden compound, tennis court, swimming pool and ancillary structures. Savills said it expects the selling price to be around $9.5-10 million (Rs 1.02 billion at Australian dollar rates).
The British High Commission moved into its new location at Bauddhaloka Mawatha, opposite the BMICH, recently. Full page advertisements in local newspapers which provide an attractive view of the back of the former building with a swimming pool and a map of the location, say 'this is a once in a lifetime opportunity to acquire 268 feet of Galle Road and coastal frontage with pristine uninterrupted views of the India Ocean." Expressions of interest close at noon on August 4, the ads said.