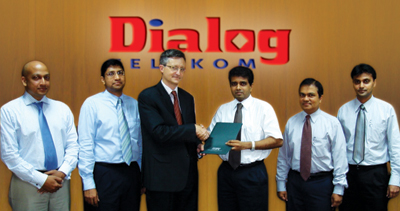 Here Dr. Hans Wijayasuriya, Group Chief Executive, Dialog Telekom and Gilles Galludec Country Manager, IFC Sri Lanka Maldives make a token exchange of agreements to mark the launch of the partnership between IFC and Dialog Telekom. Standing from left - Jeetendra Marcelline - Head Investments, IFC Sri Lanka Maldives, Asela Dissanayke Operations Officer, IFC Sri Lanka Maldives, Gilles Galludec, Dr. Hans Wijayasuriya, Mothilal De Silva, Group Chief Corporate Officer, Dialog Telekom and Thivanka Rangala, Group Chief Commercial Officer.
IFC, a member of the World Bank Group, and Dialog Telekom have joined forces to help strengthen the business skills of Dialog Telekom's retail distributors in Sri Lanka.
This will help them build a track record of creditworthiness by using the IFC SME Toolkit, an advisory product implemented in more than 25 countries worldwide, Dialog said in a statement.
IFC will provide $250,000 to support Dialog Telekom's Distributor-Retailer Community Network project, which looks at strengthening the skills of the Company retail and distributor network. This follows an IFC investment in September 2007 to help the company expand its network and build new telecommunications infrastructure. The $100 million financing package included long-term debt and equity.