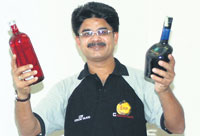 Sanjay Tiwari
Ceylon Glass Company was recently awarded Business Superbrand status by Superbrands Lanka.
Ceylon Glass Company says it commands the entire local market apart from a negligible percentage of glass imports into Sri Lanka. "Despite the high cost of utilities and the lack of cheap fuel sources in Sri Lanka, Ceylon Glass has built on a history of over 50 years to achieve distinction as a company that caters to all segments of glass containers," it said in a statement.
The company has put up a state of the art 250-tons per day glass manufacturing facility recently in Horana, Sri Lanka, thereby doubling the capacity of their overall glass manufacturing, as well as that of coloured glass. The factory can turn out bottles in a range of dimensions ranging from as small a quantity as 50 millilitres to as much as 2.5 litres.
Sanjay Tiwari, CEO and Executive Director of Ceylon Glass Company, said he was delighted with this award as it recognizes 'our presence in the country along with our contribution to the many Industries we work with'.