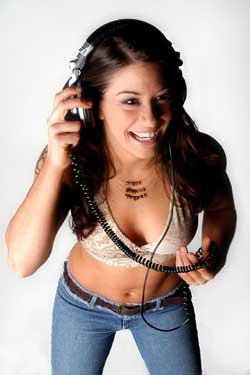 Jenn Martinello
The world famous southern coastal town of Hikkaduwa, is all agog with preparations, to hold 'Hikkaduwa Beach Fest' 08' an initiative of Sri Lanka Tourism (SLT). The beaches of Hikkaduwa will vibrate to the pulsating rhythms of DJs, dancers, and musicians from July 30 - August 3. The event will cater to both local and foreign visitors as well as to persons of all age groups – a family outing – a break from the monotony, SLT said.
Chef, Dr Th Pubilis, will be in attendance to demonstrate his culinary skills too. Six renowned DJs, Paul Medez, who released 61 singles worldwide and Jorge Jamarillo of Denmark who is famous for his single 'Shiny Disco Balls' (USA), and Jenn Martinello (USA) to name a few, are visiting Sri Lanka specially to participate in this five-day mega event.
The nights will be lit for music and dance where professional party dancers of Glam Slam from UK who have worked for the likes of celebrity Sir Richard Branson, will rock the crowd.