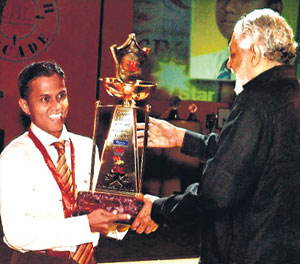 Anil Kumara receiving the CBL Star award from M.P. Wickramasingha,Chairman, CBL group
Ceylon Biscuits Ltd (CBL), well known for its Munchee range of biscuits, achieved a volume growth of over 53 percent during the financial year 2007/8, it was revealed at the group's annual Distributor Convention and Star Awards Presentation ceremony held recently.
Despite production constraints, the Munchee Biscuits range showed a growth of 24 percent while growth at Ritzbury Chocolates was 45 percent. The Lankasoy brand of Soya products achieved a growth rate of 10 percent while the latest additions to the compan's product portfolio, Samaposha, has recorded an impressive growth of 65 percent and the 70 percent growth in Tiara Cakes 'is remarkable during the 2007/8 financial year', officials said at the event.
Anil Kumara company's Eheliyagoda Sales representative bagged the prestigious CBL Star award as the most outstanding Sales Representative of the company for the year 2007/8 at the Annual Distribution convention.