Corbis, (www.corbis.com), a Seattle USA-based creative resource for advertising, marketing and media professionals, has appointed Sri Lanka's first online stock photo library 'Images of Sri Lanka' (ISL) as its representative in Sri Lanka, effective July 1, 2008. With this tie-up, Sri Lankans will now have access to Corbis' pre-eminent collection of more than 100 million creative, entertainment and historical imagery and a comprehensive footage library.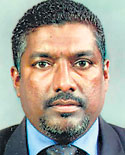 Dhammika Heenpella
"With this relationship we look to bring the creative advantage offered by Corbis closer to Sri Lanka's advertising and publishing industry," said Paul Harraghy, Director Global Channel Sales of Corbis, "We have the broadest, deepest, most easily accessible and searchable collection of imagery in the world. Among our world-famous collections are the 11 million piece Bettmann Archive, the 50 million piece Sygma archive and the leading edge contemporary stock image collection zefa."
Dhammika Heenpella, Director Operations, Images of Sri Lanka (ISL) said that as the representative for Corbis, ISL will license and provide Corbis' services to the Sri Lankan market. "Corbis offers by far the most comprehensive image file, from past to present, creative to journalistic, Fine Art to Entertainment images. Its Rights Clearances expertise can make archives of non-commercial images available for commercial uses." he said.
Images of Sri Lanka is a fast growing online stock photo library on Sri Lankan images which is 100% Sri Lankan-owned business venture and headquartered in Media City, Dubai due to the availability of cutting-edge technological facilities and related professional services at a considerable low cost.