The hugely-successful Country Roads concert series to help needy children across Sri Lanka this year raised Rs 700,000 from its annual March concert which drew performers from Sri Lanka, Germany and Britain.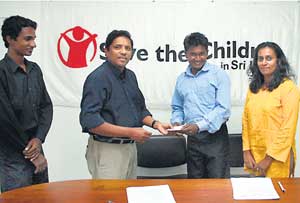 Picture shows from left -- Yohan Deshapriya, Field Officer (IRSD), Feizal Samath, President/CMF, Nimal Padmasiri, Chairman/Executive Director (IRSD) and Menaca Calyaneratne - Head of Media and Communication (SciSL) at the presentation of the donation.
The proceeds from ticket sales and corporate sponsorship were presented last week to the two recipient organisations - Porativupattu Pradesa Development Rehabilitation Organization (PPDRO) at Kaluwanchikudy, Batticaloa, and the Institute of Rural and Social Development (IRSD) in Anuradhapura - through the Save the Children in Sri Lanka (SCiSL).
The two organisations are partners of SciSL and the latter will monitor the two projects which run from end June to December 2008. The Batticaloa project will cover over 1,000 children and help in the setting up of libraries, provide books and other facilities. The Anuradhapura project will fund a mobile workshop for the provision of much-needed birth certificates for 100 recipients in the gypsy village of Kudagama, ensuring that all Kudagama residents have their birth certificates; and a 'life skills development' workshop for 100 children from the same village.
The Country Music Foundation (CMF), founder and organiser of this concert series since 1988, in a statement thanked its patrons, musicians who have consistently donated their services and sponsors for their generous support to a cause that has helped nearly half a million needy children and their families in the past 20 years.