It seems a tranquil seaside, perfect for a refreshing dip. But this particular beach near Preethipura, Hendala, a popular bathing spot has become a veritable death trap, with treacherous currents claiming the lives of three schoolboys last week.
The unexpected two-day school holiday following the teachers' strike last Thursday gave a group of eight teenagers the idea for a day's outing. They left their homes on their push bikes not telling their parents about their plans. But three of them, Advanced Level students of Sri Rahula MahaVidyalaya Angoda- Dinesh Chandra, Kasun Madusanka and Imanka Dilshan were not to return home again, at least not alive.
Heading for the beach, seven of them were soon in shallow waters playing with a kaduru gediya as a ball. When it had drifted into deep waters, the boys had gone after it and been swept away by the strong currents.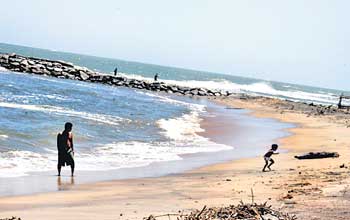 Gently lapping waves camouflage a death trap.
Dinesh's grieving father recalled how his son had left home around 8.30 a.m. saying he was going for his friend's birthday party.
"Around 1.30 p.m. we received a phone call from a Navy officer who said that my son was in trouble and asked us to come to the Hendala beach. At that moment I sensed some sort of danger as I wondered why had putha gone to Hendala when his friend is in Buthgamuwa. I immediately went there with my brother-in-law. However, we got to know about the tragedy even before we reached the spot," Premasiri said.
"It was around 9 a.m. the next day when my son's body was recovered," he said in tears . Dinesh, the youngest in the family of three was talented in music, said his mother adding that their son loved the company of his friends and relatives and was known to be a friendly youngster among the neighbours.
When The Sunday Times visited Kasun Madusanka's residence in Buthgamuwa, we were informed by his aunt Sunila Chandrakanthi that his parents had gone to attend a pinkama organized by the school for the boys who had died.
Kasun had left home that day saying that he had to attend a National Youth Council seminar and would be back by noon for his tuition classes. The second in a family of three, Kasun was studying in the A' L Commerce stream and had been a good football and volleyball player.
"He repeatedly told his mother that he wanted to find a job as soon as the exam was over so that his father who is employed in Doha, Qatar could come back to Sri Lanka," Sunila said. His father came back home…but alas Kasun did not.
According to the aunt, at the time they were searching for the boys' bodies, people were seen bathing in the area.
"What is surprising is that soon after a tragedy like this people were still bathing there and nobody seemed to be taking any steps to alert them to the danger," she said adding that there are small cadjan huts put up by the vendors who sell fried fish and other food items to visitors to the beach.
Residents had told her that this month alone at least 10 people had drowned at this spot, she said.
Wattala Police OIC confirmed that about 10 deaths had occurred in this location within the past two months.
Warning boards put up in this place go missing very often. The public sometimes do not pay heed to the warnings given by the police officers, he said.
"The moment the Police leave, people jump in to the water. However, we are trying to deploy police officers in this area to take action against those who consume liquor. Our request from the public is not to bathe in dangerous places likes this," he said adding that Police are unable to take action against those who come to bathe there.