He speaks not of your typical human rights that are being talked about these days but for the rights of the disabled. Dr. Ajith Perera is disabled. Not differently abled or physically challenged but disabled as he puts it. As secretary general of the Idiriya Foundation, a group of professionals in various fields, he is campaigning to bring about 'designing for inclusion' – a concept of designing buildings with easier access for disabled people.
May 28 saw the official launch of the book compiled by Dr. Perera and his foundation – 'Access Ability for All – Why You?' at Hotel Taj Samudra, Colombo.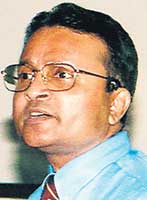 Dr. Ajith Perera
A former cricket umpire and Chartered Chemist by profession Dr. Ajith Perera, had a promising career cut short when a freak accident saw him confined to a wheelchair. One of the guests at the event, Prof. Carlo Fonseka had nothing but praise for Dr. Perera and his work.
The book launch was coupled with an educational programme to create awareness about the benefits of designing for inclusion among the country's business community and society at large. Among the participants were CEOs of several leading companies and well-known names in the business sector.
Disability is a major, but little talked about problem in Sri Lanka, says Dr. Perera. The chances are that any of us, for different reasons – the process of inevitable decay being only one – is certain to spend some time of our life with reduced ability, he says.
The quality of life you enjoy would greatly depend on how accommodating and user-friendly man-made physical environments around you are, he adds, explaining the necessity of designing for inclusion.
"Designing for accessibility therefore is, in effect, accessibility for humanity, bringing greater business opportunities and a series of social, economic and even psychological benefits to everyone," he says with heavy emphasis on the last word.Dr. Perera believes that anyone can be a victim of disability. Aside from natural causes like arthritis, most disabilities are caused due to man-made disasters. "Trees and billboards can fall on you while you're walking down the road," he says.
If and when you become disabled everything changes. Facilities that were once easily accessible to you, suddenly become restricted. Dr. Perera, questions how a person with a disability can enjoy even the most fundamental rights he or she is entitled to as a human being.
"Where is your right for education if you're disabled? Can a person on a wheelchair visit a computer class where the building is not easily accessible? Where is that person's right for education?" he asks.
The smallest change made to the design of a building, be it a bank, school, or even a household bathroom can make a huge difference. It increases opportunity, minimises the disabled person's dependence on others and enhances self-confidence.
Accessible tourism, for instance, is a money earner. Currently there are only a handful of hotels designed with disabled people in mind, says Dr. Perera.