It was a first book that catapulted the author to literary fame, winning him the prestigious Gratiaen award in 2003. Tragically Nihal de Silva was killed in a landmine attack in Wilpattu two years ago but his poignant story of human emotions that break through war and conflict will soon come alive on the silver screen. Come September, 'The Road from Elephant Pass', a film by Chandran Rutnam will be in cinemas across the country.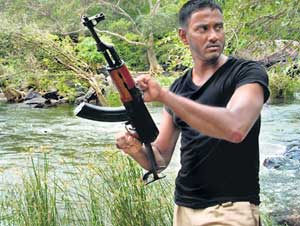 Ashan playing the role of the macho Army captain
The film was shot over a range of locations from Puttalam, Kurunegala, Yala, right through to Colombo and for young actor Ashan Dias, taking on his maiden screen role, it was a challenging yet exhilarating experience. "Initially, I had no idea what I was getting myself into and I thought I'd be able to handle it quite well. Now, looking back, I feel lucky to have come out of it alive," he says.
"When I first got the script, the English screenplay written by Chandran Rutnam adapted from Nihal de Silva's book, I assumed that the film too would be in English. Much to my surprise I learnt a few days before we started shooting that it was in fact going to be in Sinhala. We translated each day's scenes on the set that day, and I would run through it a few times in my head until I memorised it, and then we were ready to roll," Ashan says.
Shooting lasted about 75-80 days with a few gaps in between due to bad weather. The toughest day, Ashan recalls, started at 5 a.m. and wrapped up at 4 a.m. the next day. On average, a day shoot would last from 5 a.m. – 6 p.m. or until they 'lost light', whilst a night shoot would start from about 3 p.m. and wind up at about 6 a.m., Ashan explained.
"I couldn't believe how beautiful some of the locations were. Some places were just breathtaking," he said.
His character, that of Capt. Wasantha Ranatunga (last name changed from the book) was quite clear cut, he says. A patriotic military man, jaded and harbouring numerous prejudices against the LTTE, as a result of the war, the hardest part was in depicting his gradual transition from prejudice to love for the female LTTE informant he is bringing from Elephant Pass to Colombo. The dangers, obstacles and disputes they face en-route draw them together, making them shed the 'bodies' they represent and discover the actual person within. "Rutnam always said that the plot was not about the army, the LTTE or the war, but rather, about the progression of human relationships even under the most trying circumstances," Ashan points out.
Co-star Suranga Ranawaka played the role of Kamala Velaithan, the fiery LTTE cadre to perfection, he says. Both roles were physically demanding of the actors. "From walking barefoot over scorching sand dunes at 12 noon in 40° temperatures, jumping off hills, wading through the river, rolling through thorn bushes, running barefoot through the jungle or dodging real explosions, she was up for anything!"
For Ashan seeing the amount of work and crew needed to shoot one minute of film – a mere fraction of a scene, was unbelievable, he says. "The technical crew was efficient, quick to set up no matter what the terrain, without any complaint. Director of Photography, Suminda Weerasinghe knew exactly what was inside the director's head and had an almost magical way of bringing it to life on the screen. At times it was quite frustrating because, we had to take the same dialogue over and over again from different angles. Until now, I never realised the amount of hard work and time it took to shoot just one dialogue."
No stranger to local theatre audiences, Ashan landed the role of Capt. Wasantha Ranatunga, quite by chance. Rutnam, who had come to see the Workshop Players production of Blood Brothers last year, had approached veteran director Jerome L. De Silva about casting him in his film. Initially, it was for a minor role as the Capt's friend, but later he was asked if he could take on the main role.
"When Rutnam offered me the role of the Capt., I couldn't even think! I virtually floated over to my car and called my girlfriend to ask her if I should accept the offer, because although it was what I'd always wanted to do, I was due to leave for Australia to do my Masters (in Architecture) in February, which was around the exact time that they were starting shooting," recalled Ashan.
Having got the thumbs up, Ashan pushed back his departure by six months and accepted the role. "From the time I can remember, I've always wanted to be an actor. When I was a kid, I would mimic what I saw on TV and think 'Hey, I can do that…' Even when I played my first ever stage role as the King in' Sleeping Beauty', when I was only four, I knew this was what I wanted to do…" he says.
Adjudged Best Actor (Outstation Schools) at the Shakespeare Drama Competition in 1999 for his performance as Romeo, he went on to his longstanding affair with the Workshop Players. "It was actually Jerome (de Silva) who first got me into serious acting. I owe everything I know about serious drama and theatre to him," said Ashan.
Despite having no prior experience in films, he says he felt completely at home in front of the camera (possibly thanks to his many years as a News Anchor on MTV). "I seemed to know what to do and found it far easier expressing myself on screen than on stage. In a movie, you can just twitch an eyebrow to convey a certain emotion or expression, whereas you'd take double that time to depict that same emotion on stage," he smiles.
"Although at the early stages, there was quite a bit of negative hype about the plot on the lines of it supporting either one party or the other the story is to do with human relationships and how at the end of the day, that's what everything 'should' boil down to. It breaks down many pre-conceived notions and prejudices held by both sides, which could prove to be rather timely, particularly now," he says, glad to have been part of an 'amazing' experience.