Iranganee Fernando, a tsunami beneficiary of Sarvodaya Lagoswatte, Kalutara waits patiently with her two-year-old at the Community Health Care Centre for medical assistance. A mother of two, Iranganee says that earlier they had to travel all the way to Nagoda Hospital to obtain medical facilities spending much time and money. "These health care centres are a blessing to poor villagers like us," she says.
The community health care centres are part of a fruitful Sarvodaya project funded by the American Jewish Joint Distribution Committee (AJJDC), in the aftermath of the tsunami disaster. These multi-purpose community centres (MPCCs) were established with the objective of bringing essential services to the village under one roof so that different aspects of the community such as educational, economic, health, social and cultural development are looked into. People living in and around the MPCCs are able to make use of the facilities it provides such as a community hall, health care centre, library and resource centre, IT centre, pre-school and bank.
The community hall which takes centrestage in the MPCC is where various events from training programmes, skills development programmes and awareness campaigns to events of special importance to the community are conducted. Equipped with a television and a radio, this hall also serves as a location for discussions on village administration and governance issues, counselling sessions and for dispute settlement.
The library and resource centre has books, magazines, newspapers, learning models, leaflets, etc to help inculcate reading habits among the villagers, especially among children.
This, in fact, helps achieve sustainable community development as youth in the village who otherwise would have spent much of their time loitering and gossiping now use the resource centre. A vital need of the village youth, IT education is given through the telecentre (IT centres) attached to the MPCC. Here they receive basic computer knowledge from trained volunteers of Sarvodaya attached to this centre.
Financial and economic needs of the villagers are served by the Economic Development Centre which provides them with soft loans, business promotions and marketing linkages to those who seek assistance to expand or uplift their economic status, while legal assistance is also given to the needy through the MPCC.
Elders are provided with a nutritious glass of Kolakenda when they come into the centre in the morning.
Currently, there are four MPCCs under this project in Lagoswatte-Kalutara (a village based MPCC), Balapitiya (town based MPCC), Matara (District based MPCC) and in Hambantota (semi urban MPCC). Although the same concept is applied to all four MPCCs, services provided vary according to the needs of the community in each location. "Therefore what we find are four different set ups of MPCCs," says the Programme Manager AJJDC Sri Lanka W.H.W. Soysa.
The MPCC in Lagoswatte Kalutara is based in a tsunami resettlement scheme consisting of 55 houses. Set up on half an acre of land, this particular MPCC is developing on an eco-friendly village basis, says Buddhika Jayalath, village coordinator, Sarvodaya MPCC Lagoswatte. Various initiatives such as rainwater harvesting, solid waste recycling and solar power are carried out in this centre, he says, with the community participating in obtaining their basic day to day requirements such as water, electricity etc.
Also established in Balapitiya is a similar MPCC, importantly, catering to the needs of the population (65335) in Balapitiya-Bentota AGA's Division. In addition to the basics, this MPCC also consists of an open air theatre and lecture hall. Currently, there are 22 children studying in the pre-school, 66 receiving library facilities, 25 undergoing IT training while another 71 are attached to the cultural centre of this MPCC established in 2007 in Balapitiya.
In Matara, the three-storied MPCC, inclusive of lodging facilities functions as an energy supportive centre where sports and peace related activities for youth are conducted. Located in the vicinity of Nilwala river, this MPCC is also used for meditation purposes.
Healing through play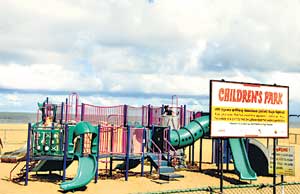 Playground along the Kalutara coast
In a bid to promote the psycho-social development of children affected by the tsunami, 85 playgrounds with internationally fabricated equipment have been constructed along the coast line of Sri Lanka with the assistance of AJDDC and USAID. From Crow Island Colombo to Batticaloa, these playgrounds have been installed, and given to local authorities for maintenance, according to the Programme Manager AJJDC Sri Lanka W.H.W. Soysa.
"This is mainly to address the psychological impact of the tsunami on children as they forget the trauma of the disaster when they come to these playgrounds," he said.