Families have their stories, anecdotes, traditions and their unique identities. The Weerasooriyas of Dodanduwa, an illustrious clan that has produced many noteworthy sons and daughters have taken a bold step of producing a sleek, professional magazine titled Sooriyakatha which chronicles the sum and substance of their proud heritage.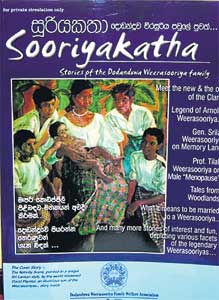 Recently launched at the Dodanduwa Weerasooriya Family Welfare Association (DWFWA) Annual General Meeting, Sooriyakatha is a lively blend of the old, the new, and the in-between that brings together a clan flung far and wide across the world. General Srilal Weerasooriya, former Commander of the Sri Lanka Army and former High Commissioner to Pakistan, Prof. Tilak Weerasooriya, Dean of the Medical Faculty, University of Ruhuna, Major General Lohan Gunewardena, former Chief of Staff, SLA, Asoka Weerasooriya, lawyer, Prof. Amal Kumarage of Moratuwa University and cricketer Aravinda de Silva are some of the well-known Weerasooriyas of today. Puisne Justice H.W.R. Weerasooriya, David Paynter, Ven. Sri Piyaratana Tissa Maha Thera, Dr. J. H. F. Jayasuriya, Chris Greet, Salvation Army pioneer Arnolis Weerasooriya, Crown Proctor and author Hubert Weerasooriya, among others, have been members of the clan whose contributions to Sri Lanka are well known.
Sooriyakatha makes wonderful reading not only for the Weerasooriyas and those married into the clan but also for those who will find the narrations, the anecdotes, the stories from the past and the present fascinating. There are stories on the family's heritage in Dodanduwa that dates back to Dutch times, the life-transforming experiences of David Weerasooriya, his son Arnolis Weerasooriya and daughter Anagi Weerasooriya who married Rev. Arthur Paynter. Sooriyakatha relates the story of how Anagi once on a mission trip in Philadelphia, USA, was not allowed to enter a tea café until she decided to stand on a table and announce that she came from the country that produced the tea everyone in the café was drinking. And it's replete with many more stories and experiences of the family members living here and overseas.
According to the DWFWA Committee (2007/2008), Sooriyakatha was a vast project ably steered to fruition in a few months, under the stewardship of DWFWA President Tennyson Rodrigo. Also lending a hand was Nayomini Ratnayake Weerasooriya, CEO and Editor-in-Chief of Satyn magazine. The entire committee shouldered the massive effort of gathering stories and profiles of many members, designing, editing, funding and printing a 116-page magazine.
"Sooriyakatha marks a time in Sri Lanka when a single family so largely spread, has managed to stay in touch and keep its core intact, imbibe its values and traditions – Weerasooriyas love their pork, their outdoor-life and merry-making, among other things – and presents many facets and pictures of what makes them the Dodanduwa Weerasooriyas. From its oldest contributor, Tom Mendis aged eighty-nine, to its youngest, Akarsha Weerasooriya, a ten-year old student at S. Thomas' College Mount Lavinia, it's a magnificent effort worth recording and reading – perhaps for posterity," says a spokesperson for the DWFWA Committee.
Sooriyakatha is available with DWFWA Committee Members and anyone interested in obtaining a copy could call (011) 257 3895; 0777 874 611 or 077 346 2965.