By Seyed Alavi Sheriffdeen, Naleemi, BA, M.Ed(Deakin)
It gives me great pleasure to pen these lines for my teacher and mentor Dr. Mohamed Ali Mohamed Shukri (known as "Dr Shukri" in Sri Lanka). The long relationship I have had with this intellectual for over two decades inspires me to salute him as a loyal student and friend.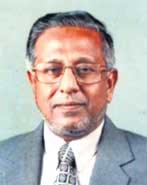 A ceremony to felicitate Dr. Shukri was held at the BMICH on June 21
I met him first at Naleemiah Institute. I was a new student from a village and my admiration of Dr. Shukri was sparked from the first speech he delivered welcoming us to the institute. His outstanding intellectual capacity, melodious tone and eloquent lectures would attract anyone. Then in our mid-teens, we were very eager to listen to his speeches at morning gatherings at the institute.
Dr. Shukri would take us through an enjoyable academic journey which would touch the golden ages of those leading institutions with which he was associated. During class discussions, he would forget his supreme position of director, his authority, and the traditional gap prevailing in developing countries between students and teachers and mingle closely with us.
In those days when we didn't know about the academic world, he would talk about top academic journals, authors, thinkers and modern thoughts. The glimpses I had through his presentations in our classroom discussions greatly assisted me when later I pursued my graduate studies in Sri Lanka and postgraduate studies at Deakin University, Melbourne University and Victoria University in Australia.
Dr. Shukri's charisma and deep analysis with his presentations would touch us all. He is an erudite scholar, humble human being and inspiring mentor.
He was born in 1940 in Matara, Sri Lanka. He studied at St. Thomas College, Al Hamra College and Zahira College. He was fortunate to be guided by great people like A.M.A. Azeez of Zahira College, Prof. Imam of Peradeniya University, Prof. William Montgomery Watt (Emeritus Professor in Arabic and Islamic Studies at the University of Edinburgh) and Prof. Kailasapathy (University of Peradeniya).
He entered the University of Peradeniya and passed out with First Class (Honours) in 1965. He was awarded a Commonwealth scholarship to pursue his Ph.D in Islamic Studies at the University of Edinburgh, UK (1976). Unlike many others, Dr. Shukri chose to return to his motherland rather than living a comfortable living in the West.
He functioned as head of the Department of Arabic & Islamic Studies at the Universities of Kelaniya and Peradeniya. When Naleemiah was in need of a person who could drive it to an international level, Haj Naleem identified Dr. Shukri as a person who would be ideal for the task. He took over Naleemiah's directorship in 1981, the year I entered Naleemiah. His appointment led Naleemiah along a steady path which many Islamic institutions missed out on, in Sri Lanka. The appointment of a person educated in the West has given a different paradigm to this religious institution.
Dr. Shukri worked very closely with Naleem Hajiar and guided Haj Naleem in many community welfare projects such as the Islamic Renaissance Movement or Iqra Technical Institute from which many poor students benefited for their higher studies.
One of the outcomes of their association was the international conference held in Naleemiah on the history of Muslims of Sri Lanka. A book on this conference was launched at the BMICH where former president J. R. Jayaewardene and Colvin R. de Silva were guests. Dr. Shukri has also authored about 15 books and contributed several research papers to learned journals and international conferences.
His contribution to the academic world especially to Sri Lanka should be appreciated by all. He has left a legacy of academic achievement in the education of Muslims and others that must be taken as a model by younger generations.
I wish him every success and a long healthy life to serve this country at this time of turbulence.
The writer is a lecturer at Higher Colleges of Technology United Arab Emirates