Little Theresa, just four years old, falls asleep in her mother's arms, while her seven-year-old brother, Kevin, sits restlessly on the chair. Their baby sister, Janet, only five months, looks helplessly at the visitors. The children are tired after a nine hour journey from Batticaloa to Colombo that morning, their mother, Subajini Goodfellow tells us. Subajini is young herself, just 25 years of age. Just over a month ago she had it all, however basic: a happy family and a bright future. But now, all has changed.
Subajini's husband, Sebastian Goodfellow (32), a driver with the Norwegian Refugee Council programme (NRC) in Sri Lanka, went missing on May 16 while he was in Colombo on work. Since then Subajini and her three children, all too young to understand the gravity of the situation have lived in daily hope of Sebastian's return. But a month has passed with little news.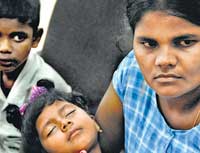 Sebastian's young family live in hope.
Sebastian, who drives for the NRC project co-ordinator of Batticaloa, arrived in Colombo on May 15. "He travels to Colombo only on official visits and the maximum he's stayed away from home is five days," a weeping Subajini says. On that particular day, Sebastian had left home early morning and had arrived in Colombo at about 5.45 p.m. On the way, he had called his wife once saying that he was on a tea break and would call her later that day.
Sebastian had then dropped off two NRC staff officers at the Colombo City Hotel and had proceeded to the NRC Colombo office to drop off the vehicle. He had left the office around 7.45 p.m. and had contacted a lodge in Bambalapitiya, where he usually stayed during his visits to Colombo. However, as he was informed that there were no rooms available that night, Sebastian had stayed elsewhere. Neither his wife nor his colleagues know where he spent that night.
"On his way to the NRC office he had been booked for speeding, my husband told me when he called me in the night," Subajini says recalling the last conversation she had with him.
"He called me around 8.30 that night. He said he had a headache. But I didn't know where he was staying," she says, adding that he had then promised to call her the next day. But he never did, nor did he report to work.
Subajini had tried reaching her husband on his mobile around 5.30 a.m. the following day. Although it rang the first time round, it was switched off when she tried next. Since then, all attempts to reach his mobile phone have been in vain, for although it kept ringing, it was either unanswered or cut off abruptly. And now, it rings no more.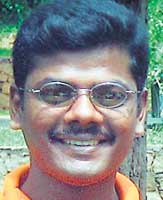 Sebastian Goodfellow
But Subajini still has hope. "I put a lot of trust in God," she says. Sebastian is a devout Christian and spent his free time in church or would walk from home to home in their little neighbourhood of Sinnaurai in Batticaloa along with the pastors, preaching and sharing God's message with others.
"Life is hard without him. It was he who attended to all matters outside home and now, for the past month it's been different. He was a man with a good reputation, never got into quarrels or disputes."
Son Kevin is adamant. He wants his father back, or he's not going to school, he has very clearly indicated to his mother. "Kevin says he won't go back to school till he sees or hears from his father," Subjani says, adding that the children miss him but don't really understand the situation. "They think he may be in some faraway place where he cannot contact us."
NRC continues to pay Sebastian's salary and help the family in whatever way possible. "He is the breadwinner of this family and hopefully we would find him real soon," says Joern Kristensen, Country Director of NRC who recalls Sebastian as a "young and reliable individual".
Sebastian has been working with the NRC for the past three years. Police are investigating and Mr. Kristensen appeals to the public, "If anyone has seen him or if anyone is holding him, please release him."