Sri Lanka's Doctor Doolittle in Rugby
By Abdullah Shahnawaz
View(s):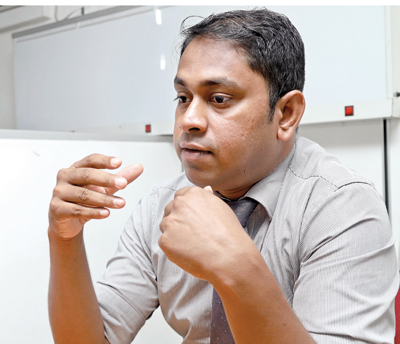 It will be the first time in history that a Sri Lankan will officiate a Rugby World Cup game in any capacity. Dr. Namith Sankalpana, the Chief Medical Officer of Sri Lanka Rugby (SLR) and a Level 3 qualified Sports Physician, will take the reigns as the Match Day Doctor in the opening game where hosts Japan take on Russia on September 20. He is one of four doctors from Asia besides the Japanese doctors. The Medical Director of the tournament will be from the United Kingdom.
Dr. Sankalpana will be based in the Tokyo Stadium and will cover Japan's matches, as a Japanese doctor won't be allowed to do so when their country plays. Here, three other sports physicians will assist him. They will have 16 camera angles to monitor the game for signs of player concussion or to determine the gravity of an injury. Dr. Sankalpana says that presently Sri Lanka lacks even the minimum of four camera angles.
The Match Day Doctor and his assistant doctors will have ten minutes to treat a player for any concussion or injury, and if the player isn't deemed fit to continue after the lapse of 10 minutes, the temporary substitution becomes permanent. The doctor explained that it would often require arguing with the team physician, who is always keen to see the player back on the field.
Dr. Sankalpana, who was allowed to skip the Level 1 course as he was already a qualified and experienced doctor, took his 'World Rugby Immediate Care in Rugby' Level 2 course in Japan in 2016. Two years later, he did the World Rugby 'Advanced Immediate Care in Rugby – Level 3′ course in Singapore. This makes him the only World Rugby Level 3 qualified doctor in Sri Lanka.
He has been delivering First Aid In Rugby (FAIR) medical courses since 2017 after having qualified as a medical educator. He was appointed the Chairman of the Medical Committee at SLR and is the physician for both the Men's and Women's teams. Following this, he was appointed to the Asia Rugby Medical Committee (MedCom) in January 2018, where he later became the Regional Head for players' welfare in the Asia South Region.
"My main duty is to look after the national teams and their injuries, look into the nutrients and deal with the trainers where performance enhancing is concerned," Dr. Sankalpana says.
"This also includes hydration and the prevention of injuries."
Taking his expertise abroad, he has carried out medical programmes and officiated games in India and Nepal too. As preparation for the World Cup, Dr. Sankalpana was selected to cover a top-tier rugby tournament in Japan with international players. This, he says, was a great learning experience to help him understand first-hand what covering the World Cup would demand of him. He had previously served in the Hong Kong 7s of 2018 and 2019. He then spoke of his plans for SLR in the future.
"I hope to hold pre-participation medical evaluation for national rugby players, and we might consider the possibilities of funding Head Injury Assessment (HIA) technology," he says.
"It is not easy and I don't think we can in the near future but we will take steps. We use a recognise-and-remove system. To have the HIA we should have at least four cameras."
He also plans to encourage more doctors to take the level two and three courses as prepared by World Rugby.