Milo creates pathway to an experience of lifetime
View(s):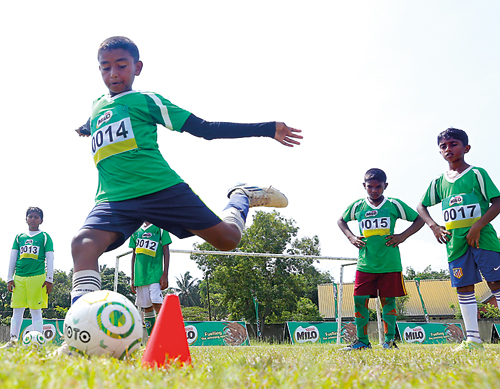 Eight young talented Sri Lankan football players have been selected for an opportunity of a lifetime, to compete in the first ever Milo Champions Cup, which will be held in Barcelona. Milo hopes to achieve this massive feat by teaming up with FC Barcelona once again.
The selected eight players will go on a journey to Spain on July 29 to attend the Champions Cup. The Sri Lankan team will comprise of eight players, with six males and two females who will compete against13 countries across the world such as Malaysia, Australia, Jamaica and others. Each match will be played by a five-member team, which will include one girl.
The 'Milo Road to Barcelona' campaign kicked-off with an All-Island Under-12 Sri Lanka Schools Football Tournament, organised by the Sri Lanka Schools' Football Association under the patronage of the Ministry of Education.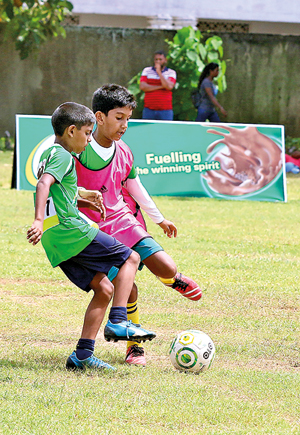 The tournament was open to boys and girls born in 2008 and 2009. Over 13,000 children took part in the initial stages of the competition; out of which, 350 children were selected to compete in the selection camp held at the Vernon Fernando Stadium on June 29 and 30. Six talented boys and two talented girls were finally chosen to take part in the Barcelona coaching camp and tournament.
A. W. Malki Lihara Adhikari of Maliyadeva Girls School, S.H. Sasindi Nimsara of Bendiwewa Maha Vidyalaya, R.M. Humaid of Al-Baduriya Maha Vidyalaya, P. David Darlingsan of St. Henry's School, Illaivali, M.I.M. Rahil of Zahira College, Colombo, N. Aaron Senapala of Gateway International School, K.H.S. Hansana Hannadige of St. Josephs' College and M.S.M. Muaaz of Zahira College, Gampola are the girls and boys who have been selected for this fantastic opportunity.
The-two day coaching and selection camp consisted of an expert panel of coaches including Sampath Perera, Lalith Weerasinghe, Chaminda Steinwall, and many others along with officials from the Sri Lanka Schools Football Association. They, along with officials from the Ministry of Education were responsible for coaching the short-listed children and selecting the most deserving eight players who demonstrated sound football skills during the two days.
Milo's aim is to nourish the ambitions of kids through their participation in sports, and encourage well rounded personalities. FC Barcelona prides itself on five principal values, namely: 'Humility', 'Effort', 'Ambition', 'Respect', and 'Teamwork'. Building on these shared values, Milo and FC Barcelona formed a four-year global partnership to promote healthier lifestyles and the importance of physical activity to young people. Together, they are developing a series of sports programmes to encourage more young people to take part in sports. Committed to developing school sports in Sri Lanka for more than three decades, Milo is leveraging this global agreement to help develop football in Sri Lanka as well as develop and inspire young football stars through its 'Road to Barcelona' initiative.