Think before you wear; "who made my clothes?"
By Hiranyada Dewasiri
View(s):
With the aim of creating a fair, safe and transparent fashion industry, the Fashion Revolution Movement of Sri Lanka urges fashion consumers in the island to ask the question "Who made my clothes?" A collective of sustainable and ethical fashion brands who have joined together to campaign for a global fashion revolution held a screening of the documentary "The True Cost", a groundbreaking work directed by Andrew Morgan on June 14 at the British Council Library.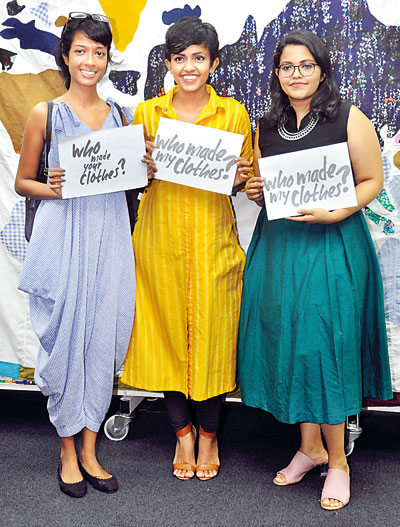 The story asks consumers of readymade garments to consider the true cost of the clothes that we wear. The Fashion Revolution movement demands fast fashion brands reveal who made the clothes that we wear to identify and ensure that these workers who are involved in the fashion industry from cotton farming to putting an outfit together have safe and respectful living conditions. In order to create awareness, the advocates of Fashion Revolution were seen wearing their clothes inside out at the event.
Fashion Revolution Sri Lanka is a joint effort of Sri Lankan ethical fashion and lifestyle brands including Selyn, Kantala, House of Lonali, Buddhi Batiks, Pras & Danties, Pedals Footwear, Dodo Footwear, Cane Couture, Rice & Carry, Api Happi, Parkville, Original Source & Supply, Sena Eco, Booteek, Rampart and the Good Market.
Fashion Revolution Global is a movement that was born following the Rana Plaza building collapse in Bangladesh on April 24, 2013 killing 1,138 garment factory workers. It is now advocating for a more accountable fashion industry that ensures safe and good working conditions, respects the rights of workers and is environmentally friendly.
Selyna Peiris of Selyn Exporters, an advocate of fashion revolution said that the importance of the Global Fashion Revolution for Sri Lankans is two-fold. "As consumers we need to understand that what we are wearing is affecting people and the environment." She emphasized the need to give prominence to local and ethical brands. "Sri Lanka has a reputation for being an ethical sourcing hub in the apparel industry with companies that have set a good precedent. Now it is time for the smaller brands to follow that path." Selyna believes that with a global movement that says 'no' to unethical fashion manufacturing, there are new doors being opened for the reputation that Sri Lanka already has for itself.
As "The True Cost" revealed fashion is the most labour dependent industry with 1 out of every 6 people in the world being employed in it. The fast fashion industry is creating massive amounts of apparel waste and is the No. 2 polluting industry in the world, second only to the oil industry.
Visit https://www.fashionrevolution.org for more information about fashion revolution.